Introduction
PostNord is a leading provider of parcel and logistics services to, from and within the Nordic region. ZetaDisplay has worked with the company for over six years, implementing Digital Signage solutions across its Swedish and Danish stores and working with the brand to enhance the in-store experience for its customers.
With fewer dedicated PostNord post offices and more outlets located inside supermarkets, ZetaDisplay has been working with the brand to devise new Digital Signage solutions to account for the changing requirements whilst still ensuring optimum engagement opportunities.
Challenges
PostNord was looking to create, install and nurture user-oriented digital communication solutions that were easy to manage on both a central and local level for customers and employees.
They were keen to move away from paper signage and use digital solutions as a way to enhance wayfinding and corporate communication across three main areas of its business: offices and outlets, logistic centres and for corporate communication at Terminals and in the PostNord HQ.
Retail Outlets
As there are now fewer dedicated PostNord post offices and more outlets located inside supermarkets, ZetaDisplay delivered multi-functional displays that offer the same communications with customers, but take up less valuable real estate. This means the displays do not require any mounting infrastructure outside of their zone, maximising wall space.
Using two 43" and 50" flagship screens, PostNord can prompt customers with useful information around parcel collection, share important information regarding Covid safely and roll out global marketing campaigns across its stores.
Terminals
With ZetaDisplay's Engage software solution, PostNord can generate a mix of centralized and regionalized messages across the business and have the flexibility to update the content at a moment's notice. The company is able to create different logins for its central and regional teams, allowing them to easily update internal business processes such as policy or canteen information.
The Engage platform gives the team the ability to share branded templates that perfectly fit across the different display types and roll them out across the business.
HQ Corporate Communications
PostNord has been undergoing a transition to make its corporate HQ a hybrid workplace. ZetaDisplay installed a 3×3 Phillips video wall solution in the lobby and large format displays in lounge areas to convey workplace messaging to help keep employees up to date with latest safety and business information.
PostNord used to use display dashboards but this paper approach meant that the latest information couldn't be updated at short notice. Using Digital Signage and ZetaDisplay's propoetry CMS software means the business can roll out new information and messaging across the whole business quickly and efficiently.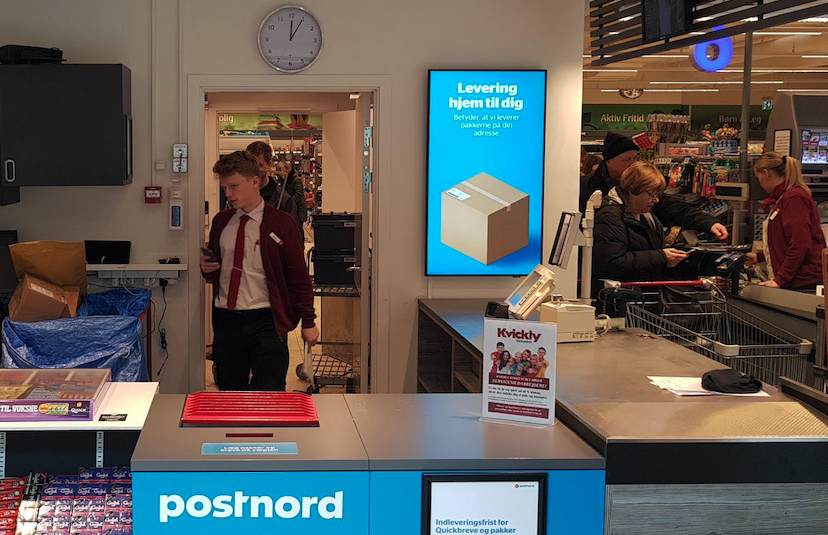 Benefits
Since working with ZetaDisplay, PostNord has seen the value in Digital Signage and is now actively extending its digital estate. Denmark now has over 550 network estates and Sweden 500.
Digital Signage has not only had a positive outcome for PostNord customers but for internal processes within the business too. PostNord can now communicate brand messaging and relay key information with its customers quickly and efficiently which has helped to speed up the sales process and ultimately enhance the customer experience journey.
Trine Klink Pedersen, Project lead, PostNord:
"Integrating ZetaDisplay Digital Signage has had so many positive effects across the business. From speeding up the sales process to being able to communicate important information to our customers. The Engage software allows us to update display content internally and roll out new messaging and campaigns quickly across departments. It's given us the opportunity to showcase our brand values and company mission and demonstrate to customers why we are the best choice of courier".