Pink Fish created a positive shopping environment for customers
Salmon Company, fronted by Bocuse d'Or winning chef Geir Skeie identified a gap in the market for a restaurant that appealed to people on the move or people that wanted a short break from everyday life to enjoy fresh salmon served with delicious international flavours, at a reasonable price.
With global expansion in mind, Pink Fish needed an internationally recognizable format. The in-store navigation of the restaurant and its look and feel have the appeal of a familiar setup wherever in the world the customer may be. The key principle has been to design the stress out of the process by taking away all the friction points in the customer journey. The restaurant is designed with zones that have digital signage to help make the customer journey frictionless.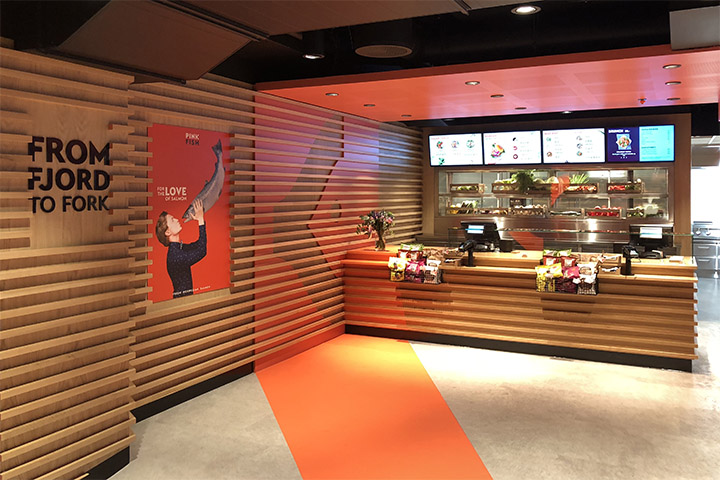 Challanges
Like retail, QSRs have two major challenges to overcome. The order process needs to be easy, and it needs to leave the customer with a happy experience. Ease of use and efficiency are crucial to the success of QSRs as the customer is looking for convenient and quick food. Customers want to experience a frictionless journey from start to finish, so this means all customer touch points have to be considered.
It's important to have clear and visible navigational markers in each zone from entry, through the ordering process and up to the counter for payment. Menu boards need to be accurate and up to date to avoid long waiting times for customers.
Having a self-explanatory ordering process for the customer to place an order and then wait for the food to be prepared is essential. This addresses waiting times for customers in a hurry. The whole journey has to be seamless for the customer and improve customer satisfaction whilst in-keeping with brand guidelines and key messaging.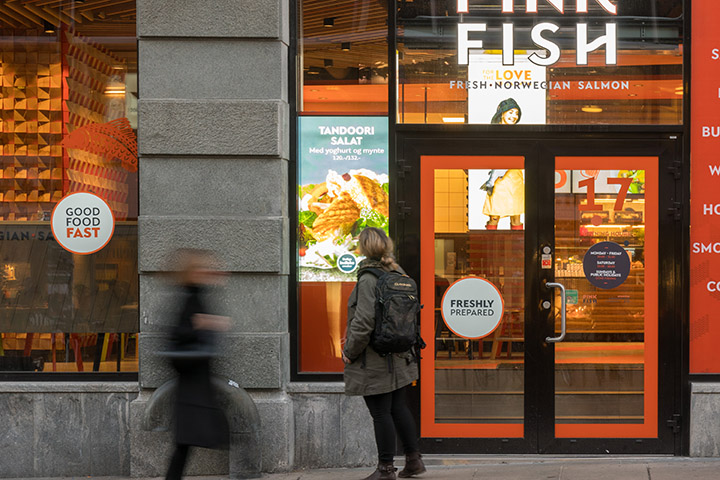 Solution
To make the customer journey seamless, every system is integrated into the digital signage. When ordering a meal online, on the app or in store, their name will pop up on displays in the restaurant when the meal is ready. The menu boards are integrated into the POS systems, so when changing price on products in the POS system, the price will automatically be displayed on the menu boards.
The whole customer journey is mapped. Upon entering the restaurant, the customer is welcomed by storefront displays showing products that are relevant at that time. Going further in, the customer is met by campaign displays helping the customer make a choice before coming to the counter. Over the counter are several menu boards that are dayparted as well. The menu boards are synced to be able to show a swimming fish in the background of the menu boards. This subtle animation makes the menu boards come alive.