Introduction
ZetaDisplay has worked with Volvo Cars Finland since 2016 on a mission to digitalise the communication of its entire dealer network.
This was achieved in 2021 with the network of over 30 dealerships now able to instantly update their marketing materials in real-time, reducing the need for any printed assets, saving time, eliminating waste and ensuring each branch is always up to date.
Volvo is the most respected car brand in Finland according to the Brands 2021 survey by Taloustutkimus and Kauppalehti. The ranking is a testament to the success of long-term work and its brand values that are synonymous with its Finnish customers, combining safety, sustainability and appreciation of individuality.
Challenges
Volvo has a network of over 30 dealerships in Finland and keeping printed marketing materials up to date has always been a challenge.
There is a constant need to update marketing material in car dealerships due to the fast pace of communications in the industry. In the past, this has been unnecessarily time-consuming for the dealership teams and resulted in a significant waste of material, money and natural resources. New brochures and price lists had to be constantly printed, transported to the stores and outdated material had to be recycled.
The Digital Signage solution from ZetaDisplay has completely replaced the need for any printed marketing materials. The digital displays are strategically positioned throughout the dealership to compliment the journey that customers take when buying a new vehicle or arriving for maintenance services.
Digital Signage solutions have been placed near the entrance to help customers with wayfinding, at customer service stations and in the customer lounge, where customers can wait for their car to be serviced or changed. Displays have also been placed near the mechanics' workstations.
The content on the screens varies according to the time of year and for where customers are on their unique purchase path.
When new customers are configuring their vehicle preferences, short tutorial and informational videos are displayed to help them to understand how the different car equipment works and what colours and accessories are available.
In the service waiting areas, customers can engage with longer video content on topics such as Volvo's sustainable development or the autonomous future of driving, immersing them into the brand's values and lifestyle.
The display and content concept created by ZetaDisplay is scalable, allowing for flexible application in Volvo dealerships of different sizes. The most extensive display packages are available at dealerships in the Helsinki metropolitan area, as well as in Turku, Oulu and Tampere.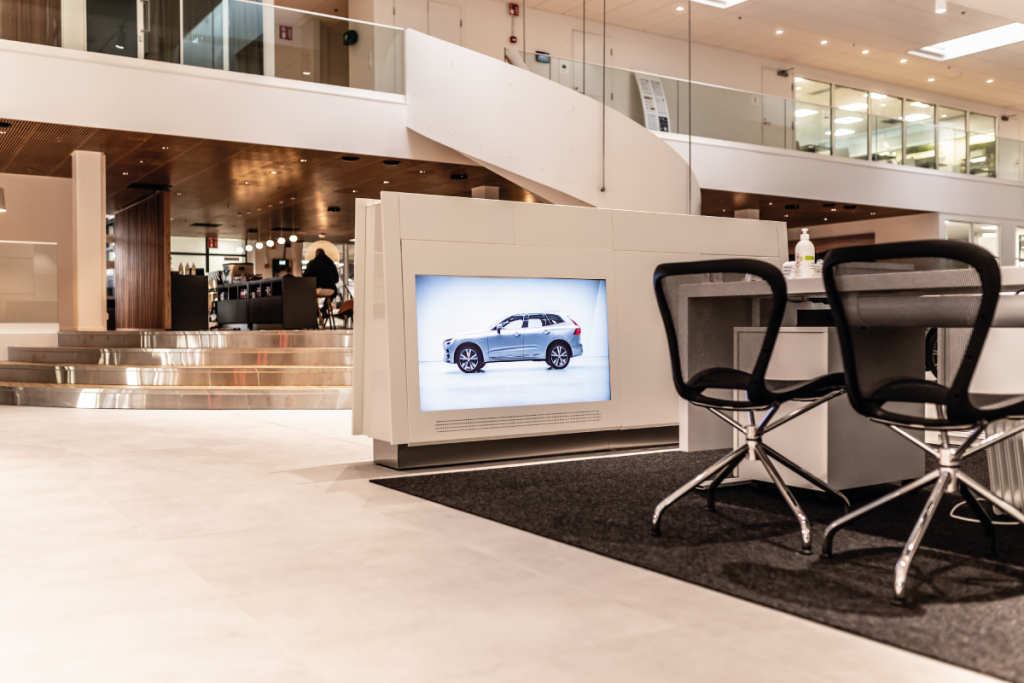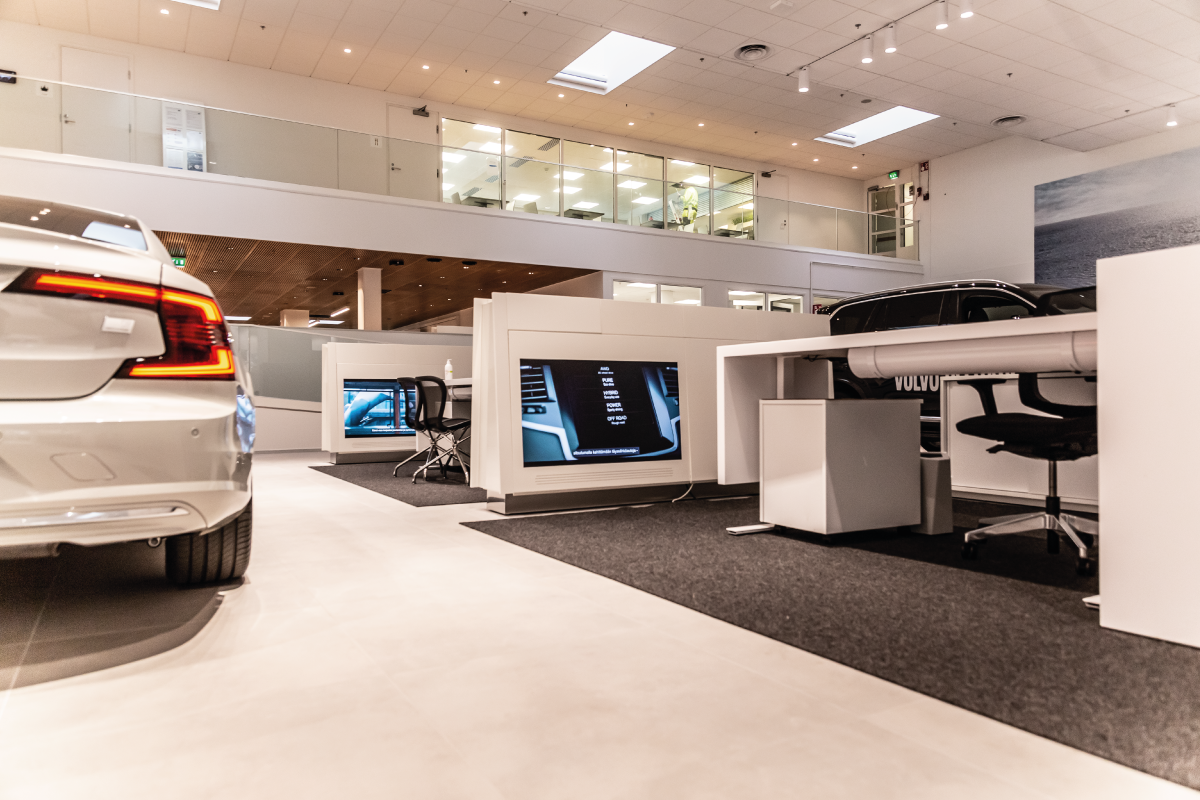 Benefits
The digital communication solution has helped Volvo achieve a paperless marketing concept, which saves time and resources. It is easier for the marketing department to control marketing content and in-store materials are now always up to date.
Visible digital communication also supports Volvo's responsible, technologically advanced and forward-looking Premium brand.
"Working with ZetaDisplay has been very professional. We agreed on a joint working model from the outset and they have since taken full responsibility for managing the entire redesign. At ZetaDisplay, things are carried through to the end and you can see that the Zeta team is interested in a job well done."

Jenny Korpimäki-Oksanen, Fleet & Sustainability Manager, Volvo Car Finland
"We have used digital display solutions before. However, in this latest redesign, the wow effect comes from the fact that Digital Signage has been integrated as a natural part of the fixed furniture and store concept, resulting in a professional and visually interesting end result."

Tommi Jokinen, Technical Service Development Manager, Bilia Oy Ab
Do you want to know how Digital Signage can help you?
Contact us