Introduction
Stockmann department stores are renowned for their diverse and high-quality range of fashion, beauty and home products. The Stockmann Group has eight premium department stores across Finland and the Baltic countries which aim to inspire customers to make sustainable and responsible choices.
ZetaDisplay and Stockmann have been in partnership since 2013. The cooperation started with a department store in Helsinki city centre and has continued to expand across Finland. The first Digital Signage solutions have also been introduced in Riga, Latvia.
Challenges
Stockmann wanted to maximise the potential of the display windows as a communication channel, providing passers-by with up-to-date information on products and offers. Window dressing takes time and it is challenging to make changes in short timeframes. ZetaDisplay implemented a video wall display solution for each of the display windows in Stockmann Finland's department stores.
They also wanted to improve customer communication within the department store. The aim was to standardise communication and reduce the use of different communication media, especially printed material. The displays were intended to strengthen cross-marketing between different product groups and to make it easier to direct customers to different product departments.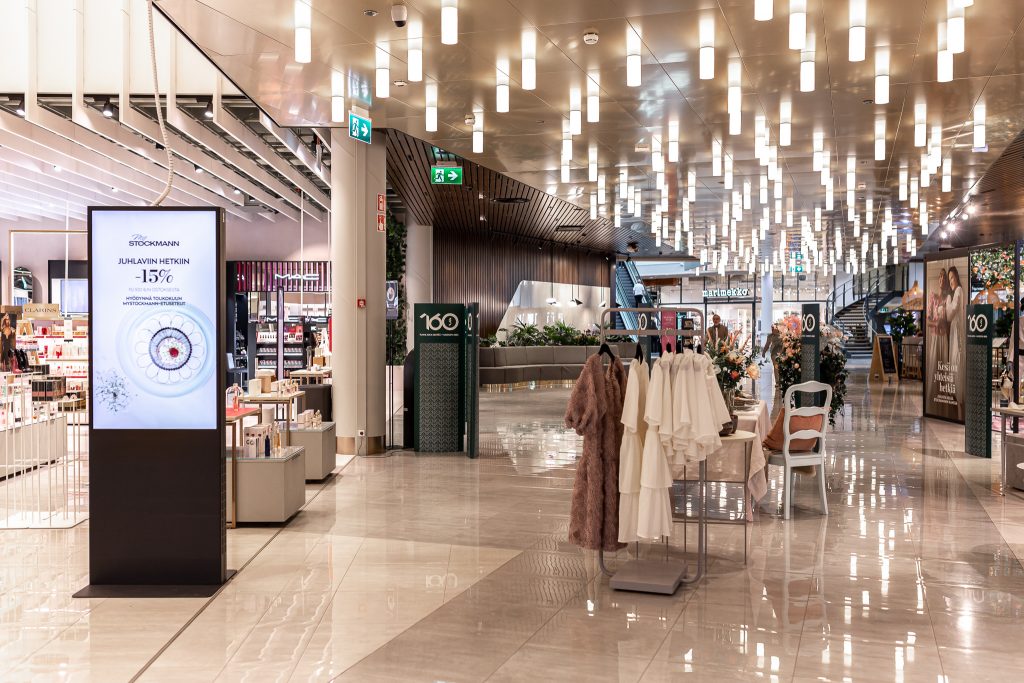 Solution
Since the beginning of the partnership, Stockmann's shop windows have been equipped with video wall display solutions supplied by ZetaDisplay, measuring approximately 3×2 metres, which have enabled the company to provide visual and inspirational content to passers-by. At the beginning of 2022, the display solutions in the Helsinki department store were replaced with new LED displays that are more energy-efficient.
The display solutions offer the possibility to make use of a wide range of images, videos and other moving media. ZetaDisplay's proprietary content management software allows for agile communication and, if necessary, easy and quick adaptation of messaging.
Inside the department store, the layout of the displays has been carefully planned. The displays have been installed at the intersections of customer flows and at the checkouts, where they provide inspiration to customers moving around the department store. 
Benefits
ZetaDisplay's content management software and display solutions enable Stockmann to offer a high-quality communication channel for different product brands, as well as an easy-to-maintain communication channel for marketing. The Digital Signage solution also enables rapid changes and updates to content simultaneously across department stores.
During these years, they have helped us extensively in the effective use of display solutions. Together, we have planned the strategic placement of displays in our stores, selected the most functional display solutions and created suitable content for the displays".  – Kati Parkkinen, In-Store Marketing Manager, Stockmann