Introduction
XXL is the largest and fastest growing sports retailer by revenue in the Nordic region. Its franchise currently spans 22 stores across Norway and Austria with its main offices are headquartered in Oslo.
It's new Stockholm store located in The Nacka Sickla shopping district is situated over two levels and accessed by an escalator. With the store entrance located on the second floor with no space to display products on the ground floor entrance, XXL needed an impactful solution to capture the attention of passers-by and entice them inside.
ZetaDisplay designed and delivered an immersive Digital Signage solution utilising a transparent LED display to provide an eye-catching and dynamic wayfinding solution.
Challenges
With the store entrance located on the second floor of the Stockholm shopping centre and no space to display products on the ground floor entrance, XXL needed an impactful solution for its new Stockholm store to capture the attention of passers-by and entice them inside.
All 22 Nordic stores also required a Digital Signage solution to create a brand activation zone for Adidas that would be consistent across locations and complement the design of the shoe wall. This also needed to feature a real-time integration with a price comparison tool to match the best online price with that in store, encouraging shoppers to buy immediately rather than go home and look online.
To create and manage content across the whole Digital Signage network, XXL needed an intuitive CMS solution. This needed to feature different levels of access, so they could give access to external brands for specific campaign activation, and facilitate the real-time pricing so content dynamically updates without requiring manual work from the team.
The installation team installed a 7.5m high x 1.5m wide, 3.9mm pixel pitch Absen transparent LED mesh window screen. This fills the whole window and has an 80% transparency so that the window can still be utilised when no content is playing. When dark colours are used it turns into a dramatic display ideal for messaging. Creative content can be designed so that it interacts with physical objects placed in the window and doesn't need to be a full display.
This invites customers to look inside and engage with dynamic messaging through holographic style content and floating imagery, instead of blocking their view with static content.
Content is innovatively created, scheduled and managed using ZetaDisplay's proprietary CMS platform, Engage. The company created a personalised interface for XXL and using its media creation tool specified the LED mesh dimensions and design rules so that content can easily be created and is automatically scaled to size.
The XXL team can intuitively manage content for all in-store displays from one comprehensive platform and link with omnichannel campaigns through additional integration capability with social media channels.
For the Adidas brand activation zone, ZetaDisplay utilised Samsung 55" displays, mounted in portrait to give them a 9:16 aspect ratio. These are built into the shoe wall display for a seamless finish that integrates directly with the environment.
Benefits
The attention-grabbing display has successfully helped to raise the profile of the store and increase footfall to the second-floor destination.
Content for the unconventional LED mesh display can easily be created and managed by the XXL team using ZetaDisplay's Engage CMS. The fully cloud based platform allows users to easily create, schedule and manage media content across advanced signage networks with real-time visibility and dynamic integration from a customisable and intuitive user interface. 
By creating a unique CMS interface for XXL, the company can streamline asset and content creation with agile templated campaign management and use intelligent automated features to scale and provide real-time business analysis to optimise performance.
ZetaDisplay also added an integration using Engage with a real-time price comparison tool to track the differing prices online of Adidas trainers. This innovation is designed to bring the online and in-store shopping worlds together, demonstrating to customers that they are getting the best deals in store to encourage them to purchase.
ZetaDisplay made this a crucial part of the Engage set up and ensured that as the dynamic pricing data was being pulled through, it also gets put into an Adidas approved design template, to ensure that all messaging remains on brand. This automated process dramatically reduces the amount of manual labour needed to manage this process, reduces human error, and ensures that displays are always showing the latest information.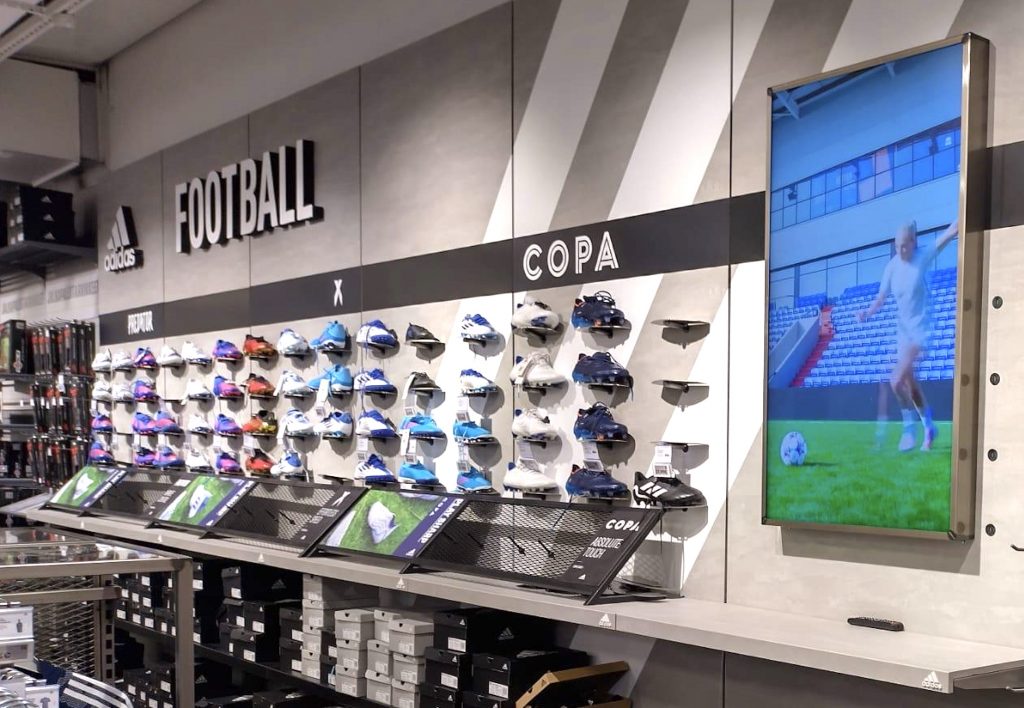 The Adidas brand activation zone successfully fuses the worlds of online retail with in-store by bringing in external pricing and letting customers know they are getting the best deals. Thanks to the integration with Engage, XXL and Adidas can manage this when required, but with the majority of work automated to ensure the pricing is always up to date and displayed through approved brand visuals.
ZetaDisplay is also working with the XXL Oslo store to initiate a multisensory level of immersion for the brand through additional audio branding. Working with ZetaDisplay company Liveqube, handcrafted playlists are being created based on the XXL audience demographic to contribute further to the XXL brand identity
Do you want to know how Digital Signage can help you?
CONTACT US