Introduction
BALR. was founded in 2013 by professional football players and is a luxury lifestyle brand. The company has managed to build an international luxury lifestyle brand known for its high-end fashion, travel products and accessories for men and women. The Netherlands-based brand has created a complete range of high-quality items that inspire to live the life of a BALR [pronunce it "baller"].
They have multiple beautiful stores in The Netherlands, Germany, Spain, Italy and Dubai. Founded in 2013 by Demy de Zeeuw, Juul Manders and Ralph de Geus, BALR. is the embodiment of a modern lifestyle brand. Aspirational, focused and in-sync with its young and ambitious audience, the company brings the luxurious lifestyle of extraordinary athletes within arm's reach of everyone who works hard to live the dream.
Challenges
In relation to the global pandemic, known as the Coronavirus, almost every company and industry had to rethink its safety measures to keep their customers and employees from harm.
BALR. Approached us to think along with them how to clearly communicate their Coronavirus safety measures with their visitors. BALR. Already uses the Gauddi solution for digital signage and has placed displays in the store at Hoog Catharijne shopping mall in Utrecht, The Netherlands, and in the store windows. The challenging part was keeping everyone safe.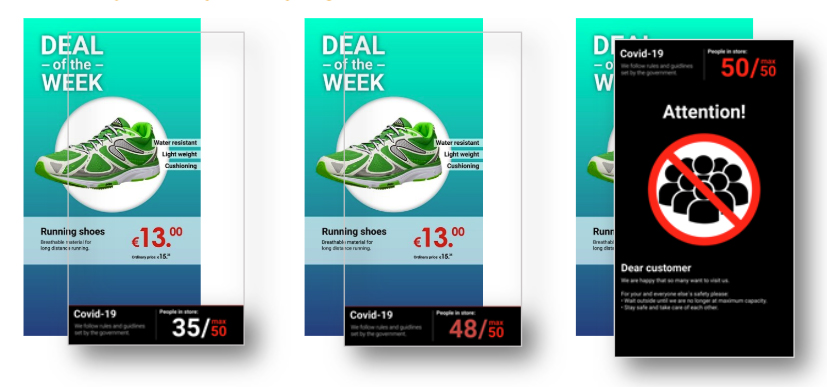 We offered to link our Gauddi software to their "customer counter" system. This link ensures that the amount of people in the store is automatically displayed on the shop window displays and how many people may still enter or if you have to wait. And of course, everything in de BALR. corporate identity. The image above is a mock-up made to demonstrate how the solution works.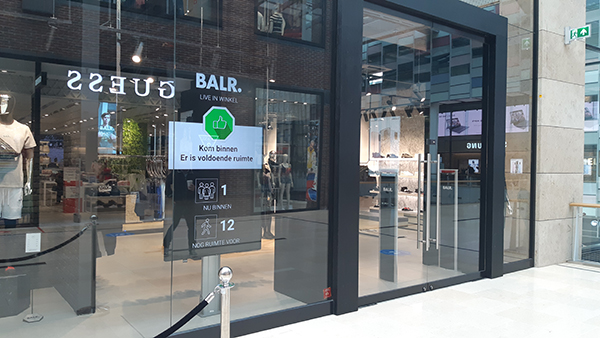 Benefits
The feedback from BALR. has been very positive, we were right on target. By-passers who don't come in, still stop to look at the screen, which means we both have successfully addressed the two major pain-points for retailers namely footfall and conversion. Our safety measures solution is still a new one and we see the further market potential in shopping centres and high market streets. The consumer response has been very supportive and useful. Our solution provides clear and up-to-date information to the visitor in line with the Coronavirus measures. Digital Signage solved in an intelligent way is a win-win situation for everybody: Shop personnel can focus on customer service and the consumer feels safe and is able to pursue its journey in the shop.