Introduction
Flytoget has been running since 1998 and is the sole Airport Express Train connecting Central Oslo to the Airport. The privately state-owned company operates high speed trains on the line every nineteen minutes and has been a partner of ZetaDisplay since 1999.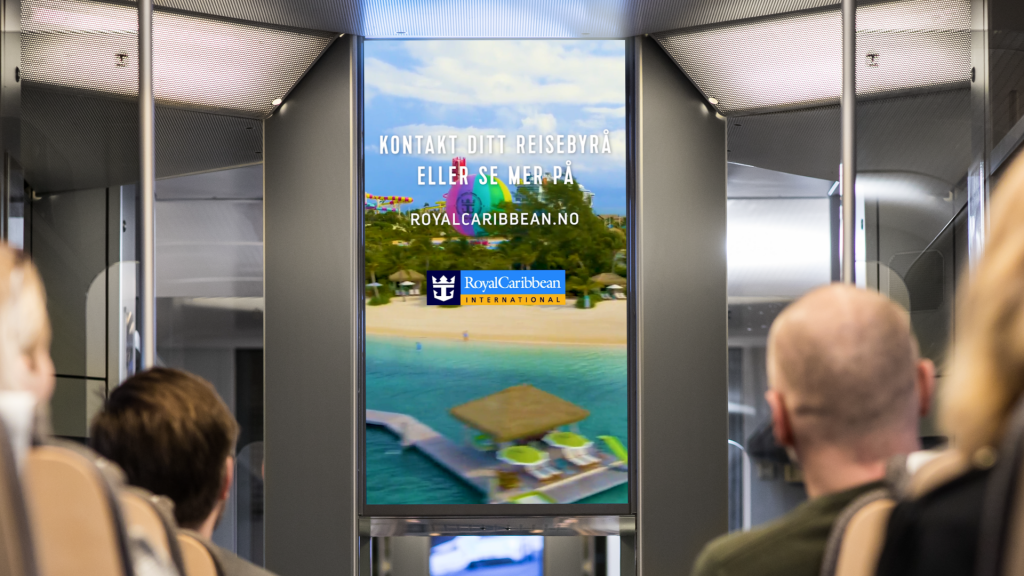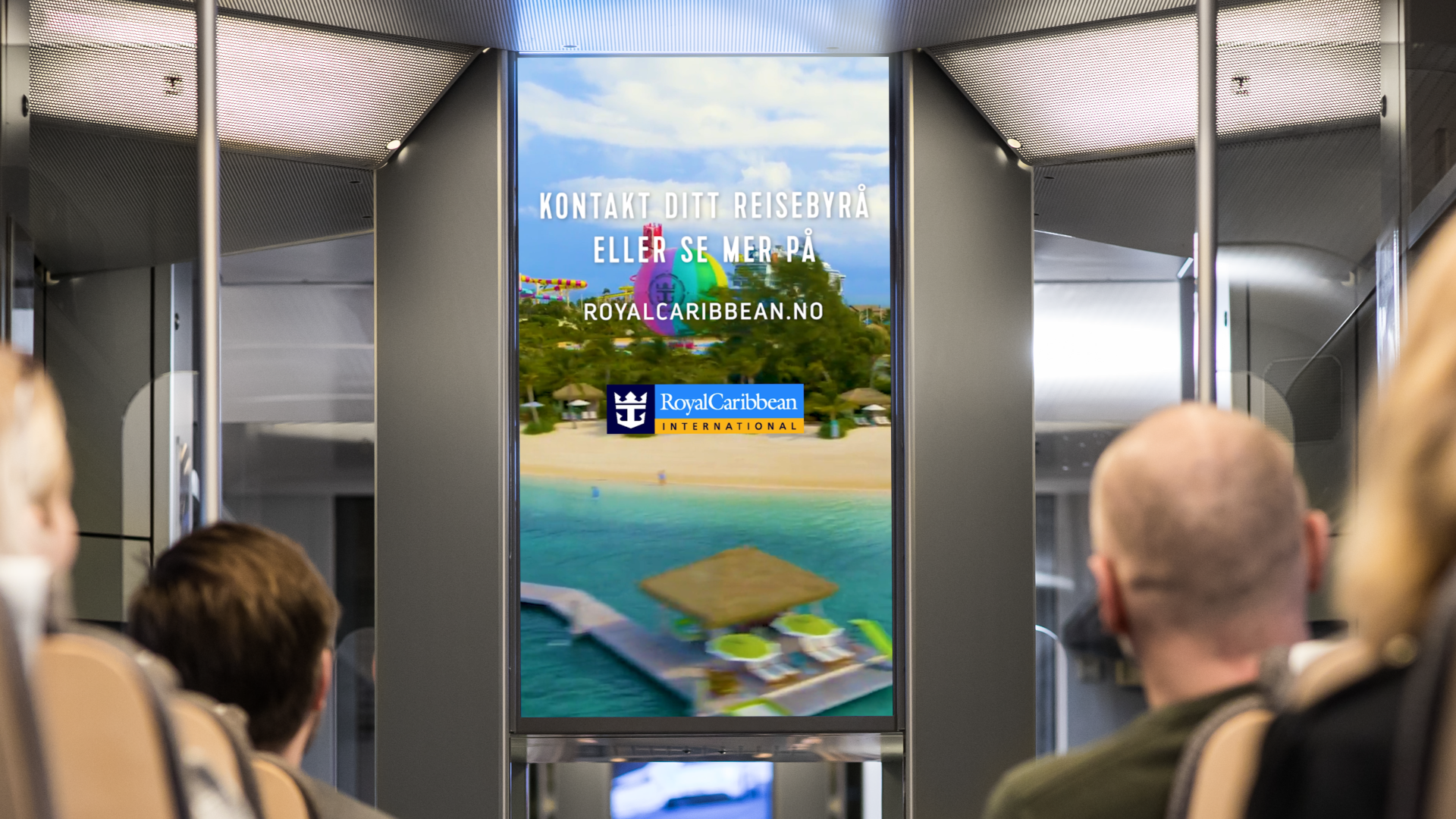 Solution
ZetaDisplay provided the full software solution for Flytoget. Individual LCD screens were placed in the direct eye line of customers and positioned so that all information was clearly visible. Through the non-obstructive placement of pylons in the carriage, ZetaDisplay were able to keep the entry and exits onboard clear and ensure the screens would still be visible to all customers onboard.
Recently, the display screens have been implemented with 60% infotainment balanced with 40% commercial integrations. The network is run on the same principle as a TV channel with attractive content for the viewers/customers and commercials in between. This allows the customer to flick between infotainment and relevant travel updates.
In 2015 the Digital Signage framework was upgraded from small format displays to large format portrait displays, which are more visually dominating and a sustainable alternative.
Through ZetaDisplay's proprietary CMS platform, Engage+, more than 15 integrations can be active on one channel further elevating the customer experience and journey. With this modern addition, customers now have seamless live flight tracking options, can be alerted to breaking news, receive real-time updates, and access local information displayed clearly for use on their journey.
Furthermore, GPS-activated integrations allow for seamless content changes between geographical zones. For example, tax-free communications play when the train is near the airport, and when the train is in the vicinity of Oslo city, useful information and wayfinding details are displayed with accessible on-screen content.
The commercials generally have three exposures during the ride from Oslo to the Airport With efficiency programmed into the digital solution new templates can be added for easy content creation and playlist scheduling.
Due to the success of the project, Flytoget signed a further seven-year contract with ZetaDisplay to continue delivering their Digital Signage solution on the airport express train.
Challenges
Flytoget was an entirely modern concept and the first-of-its-kind for the residents of Norway. The train designs were ultra-modern to blend in with the airport's design and to elevate the customer experience, further Flytoget wanted to have digital communications on board for customer use.
Due to the size of the carriages, the displays needed to be situated in areas that wouldn't affect customers boarding and alighting or obstruct important safety zones. Similarly, because there are only four carriages to each train each with a different layout, space had to be used in a mindful way.
ZetaDisplay also had to overcome the biggest challenge of all, which was to provide content that would engage customers and keep them entertained on moving public transport.
Benefits
Flytoget's Digital Signage transformation has reaped many benefits including widespread customer satisfaction, excellent reputation for delivering important travel information and for its modern transport design that is constantly adapting to the customers' needs.
Ingar Jorunsonn, Head of Flytoget Media:
"ZetaDisplay has been a key partner for Flytoget Media. Without their expertise and understanding of what it takes to set up a DOOH network, it would have been difficult to take this in house.
We have not only taken over media sales, but also improved our product. This has been possible by taking advantage of the digital opportunities that ZetaDisplay has given us.
I can honestly recommend ZetaDisplay as not just a supplier, but a long-term partner".
As part of the 2023 Tour De France, ZetaDisplay and Flytoget have partnered with TV2, Skoda, and PHD to provide real-time highlights of Tour De France which will show across the screens within the airport express. This will be on showing on screens hroughout the duration of the race.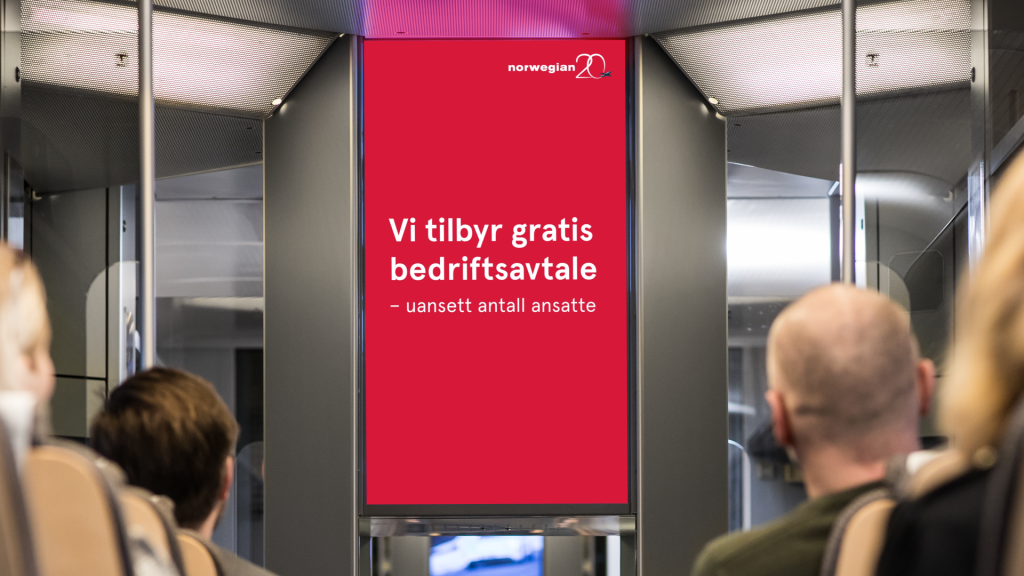 DO YOU WANT TO KNOW HOW DIGITAL SIGNAGE CAN HELP YOU?
CONTACT US