Introduction
Buying a car is not something you just do before you choose to buy a new car, you've probably seen the car multiple times in advertisements or on the internet before deciding to actually purchase it. As a car dealer, you want this experience and branding to be recreated during a visit to the showroom. Digital signage enables effective and direct communication with your target audience, also in the automotive industry.
Mazda is using the Zeta Display solution throughout all dealerships in Netherlands, Belgium and recently France.
Challenges
Mazda is dealing with different types of visitors to a showroom, which are in a different phase of their customer journey. With content on digital signage screens, all visitors can be addressed with the right information. For example, brand experience plays an important role in the process of purchasing a car and the degree of satisfaction once the car is bought. This brand experience can be enhanced using digital signage at the point of sale. By placing a digital signage screen in the showroom and waiting rooms, you can effectively showcase a car brand's USPs, models and workshops, all in the style of the brand.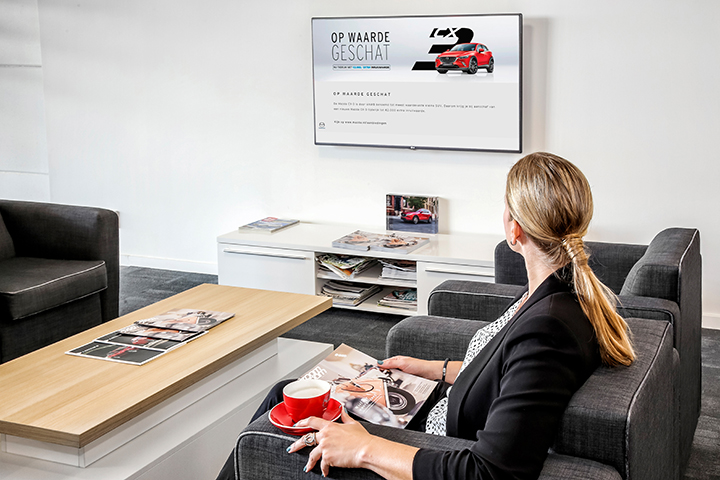 We offered an easy-to-use content management solution for Mazda, where they can easily schedule content in their uniform corporate identity, both at a central and local level. You can manage the content from the headquarters.
In this way, every location will always have the most attractive presentation showing. Does one of the dealerships have something specific to announce? Then the local office manager can add the information to the digital signage loop.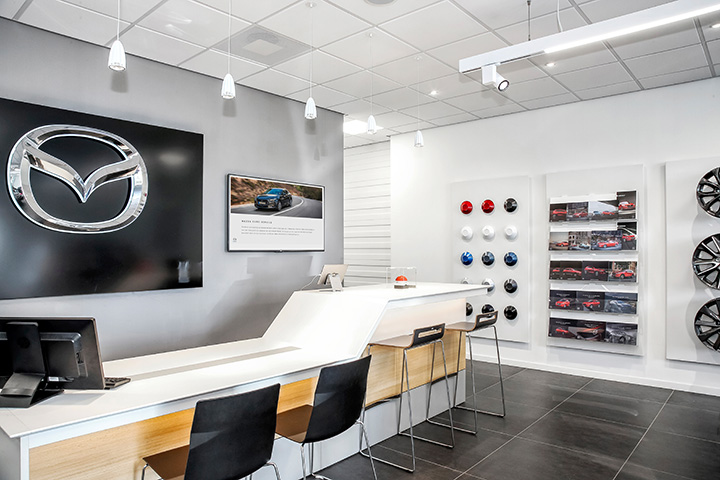 Benefits
A car company is visited by a large variety of customers. People who stop by to take a look in the showroom in search of their perfect brand-new car, while others visit to pick up the car they bought earlier that week, and at the same time there are customers pulling into the garage for their scheduled car maintenance. Generally, 70% of all purchasing decisions are made at the Point of Sale.
Therefore, it is important to visually stimulate consumers while they are in the showroom. Digital signage is an especially suitable instrument to do so. The perception of waiting times is strongly decreased by deploying digital signage as infotainment. In this setting, it is possible to bring brand expressions to the customer's attention again to enhance the brand experience.
But automotive signage is also suitable for internal communication between management and employees. For example, to communicate key performance indicators to mechanics, salespeople and other employees.