Introduction
ZetaDisplay delivered a dynamic and updated Digital Signage solution for Bjørklund, Norway's largest watch and jewellery company to drive additional revenue and customer engagement.
Bjørklund stock a mixture of their own products and a large selection of global jewellery brands, including Nixon, Casio, Adidas, Selma & Sofia, and Felix. They are renowned for their iconic Scandinavian designs, and superlative craftsmanship in the jewellery industry.
To continue their established reputation, Bjørklund needed to refresh and upgrade their digital functionalities within the store, to further engage customers and drive potential sales.
Challenges
ZetaDisplay's initial Digital Signage solution had increased footfall and customer engagement since its installation. The cinematic quality of the digital signage displays allowed the Bjørklund team to refresh content more easily but Bjørklund wanted to create a memorable and welcoming experience for its customers, so it was crucial that the digital signage solution balanced functionality and interactivity in equal measure.
Bjørklund needed a digital signage refresh that would showcase the brand messaging, incorporate interactive elements and improve the customer experience tenfold.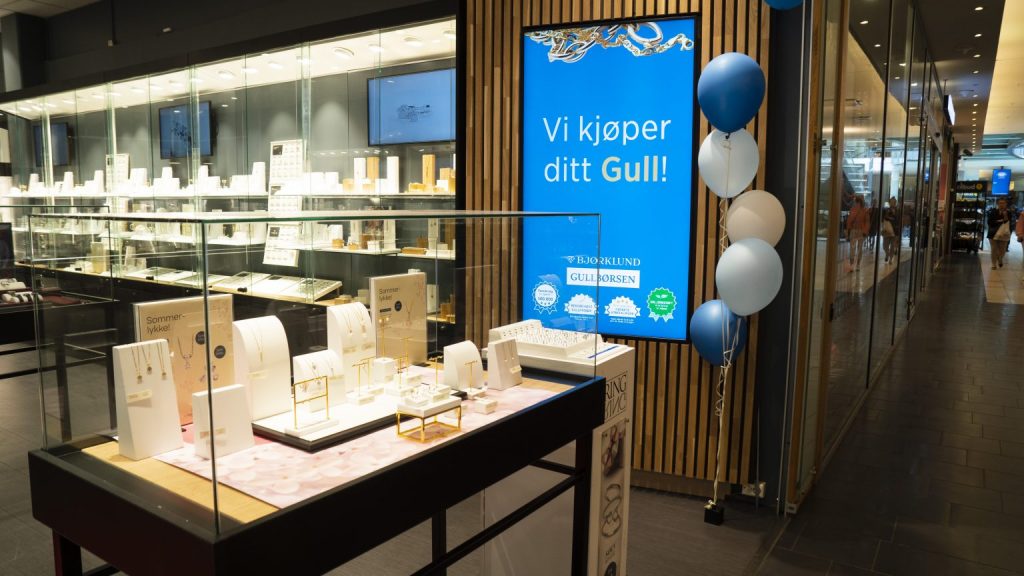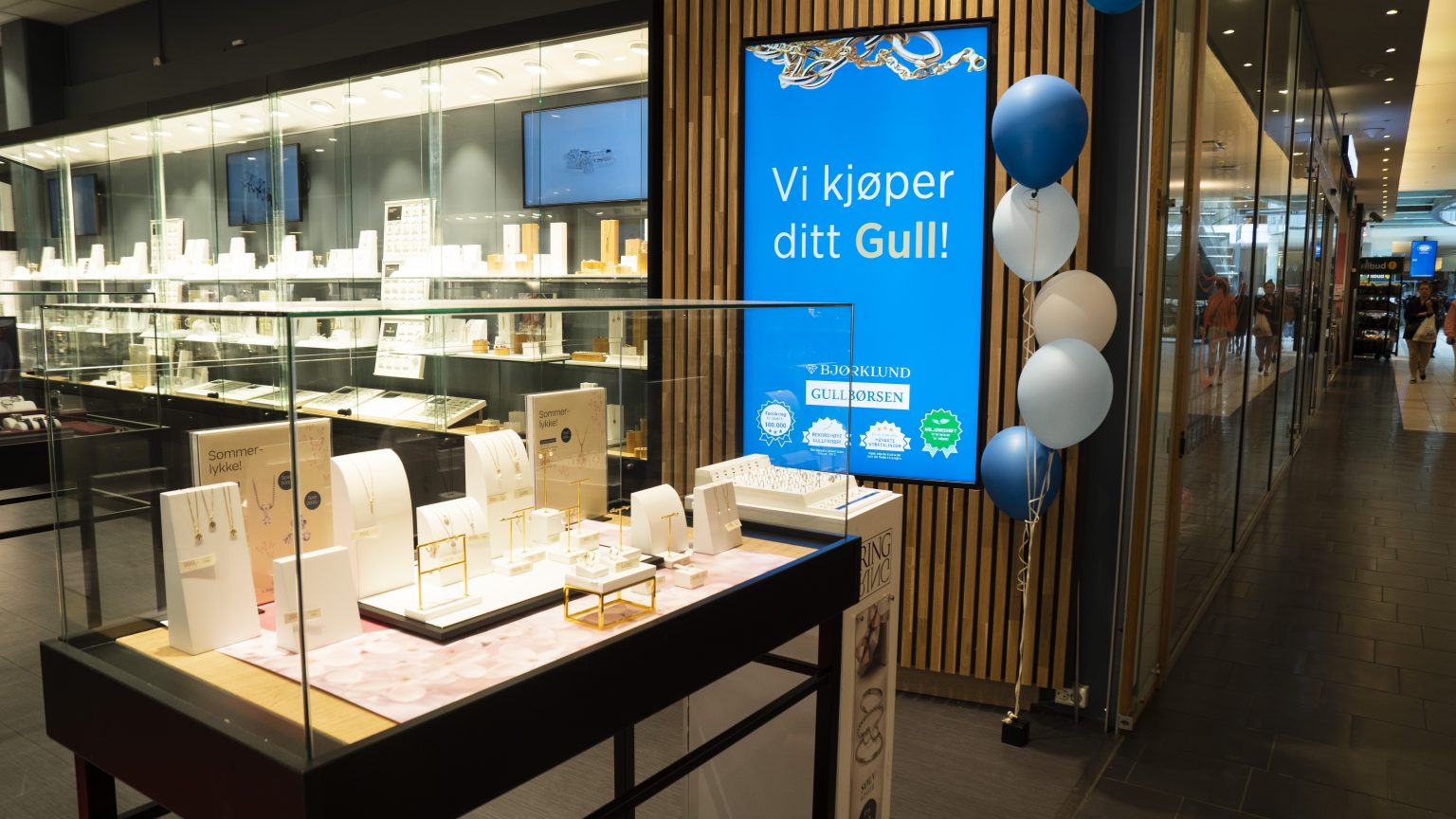 ZetaDisplay integrated an essential brand-refresh for Bjørklund with a concept that combines mounting, retracting, checkout and probe arms. The solution comprises 8x smaller 32" Samsung screens placed centrally in hot retail zones. Another 55″ screen was strategically positioned behind the cash register drawing more customer engagement with products and offers displayed to increase sales. A further x3 65″ Samsung screens were positioned in the windows to captivate the attention of passers-by, encouraging additional footfall into the store. The same digital signage solution was repeated at the back of the store, as an additional method of attracting more attention. The screen over the box is from the zones that were established in 2005, where you have the opportunity to convey more of the service offer.
ZetaDisplays Engage™ proprietary CMS software allows Bjørklund's content to be pre-loaded onto each screen and can be easily accessed and updated by staff to reflect current promotions and seasonal offers. Bjørklund trusted ZetaDisplay to install a brand refresh that would complement their products and drive more revenue.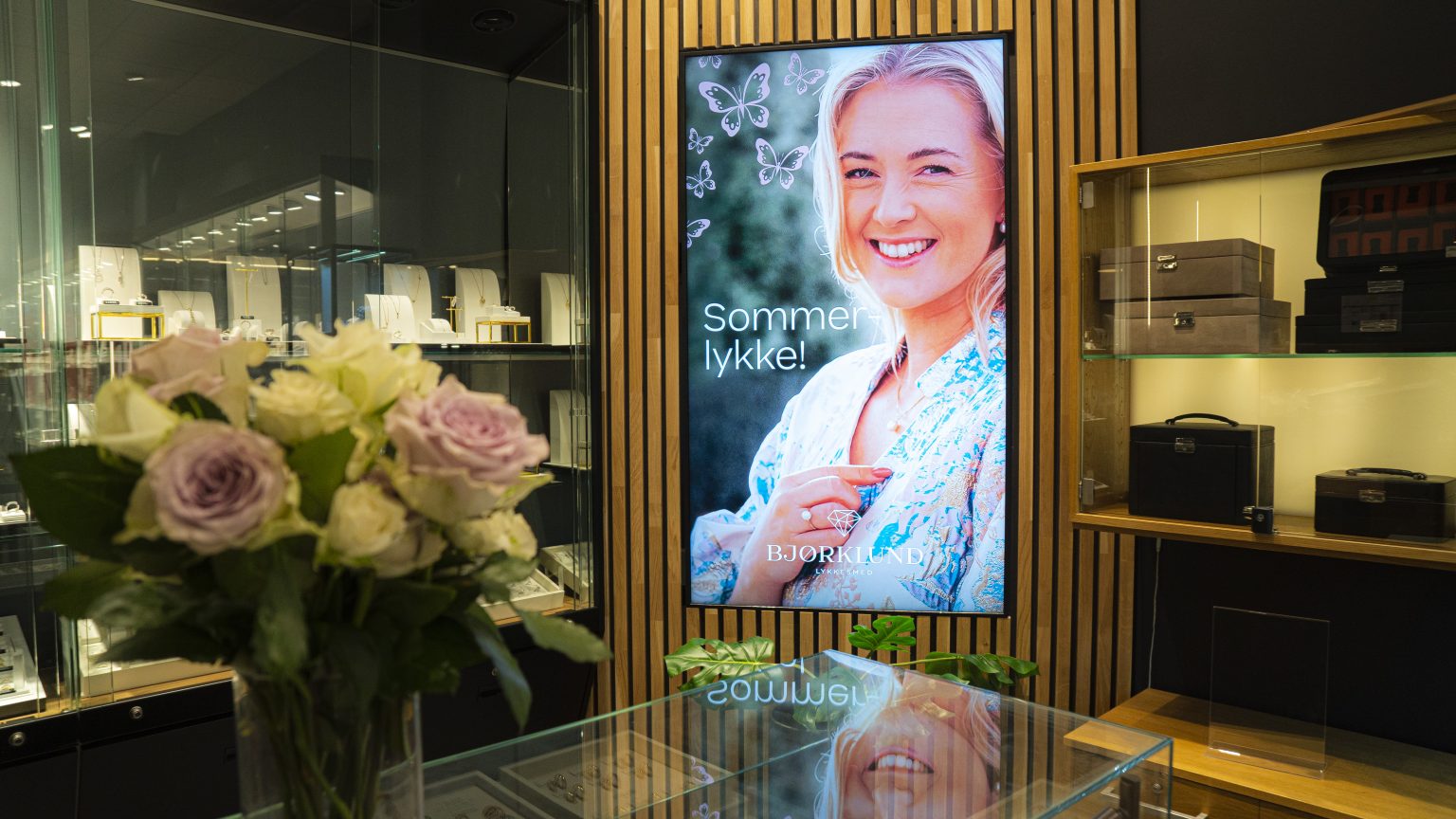 Benefits
This digital software transformation and hardware upgrade has yielded impressive results. The in-store experience now matches the high-end quality of the products on offer and marries the brand's Scandinavian design with a modern and sleek customer experience. The use of additional modernised digital signage at all entry points and above point of sale zones bring a new visual dimension to the store. The digital content loaded onto the signage can be easily updated and personalised through the user-friendly CMS system, Engage. Any operational downtime is minimal as the content is held in a centralised hub which can be accessed by all staff. The digital signage refresh showcases Bjørklund's products in new ways, positions adverts in the prime place of the customer journey and generates content promoting further brand visibility – thus encouraging more spontaneous purchases.