Introduction
ZetaDisplay has transformed digital communications at Neste Vierumäki Matkakeidas Heinola, one of the most successful transport stations in Finland. The result is streamlined messaging efficiency and an enhanced sales support system across all internal and external marketing channels.
In addition to petrol station operations, Vierumäki Matkakeidas offers a range of hospitality services including breakfast and lunch served from a takeaway table, à la carte dishes, showcase products, Kotipizza pizzas Hesburger meals and a grocery shop.
Challenges
The Vierumäki Matkakeidas team wanted to increase sales and transfer all menus to digital format. This needed to be presented in an easy-to-read format with an easy-to-use digital signage solution that would allow them to update the digital menu content themselves and use it more effectively for targeted marketing.
It was also essential that the station's own advertising display solutions could integrate seamlessly with Hesburger's in-station communication concept.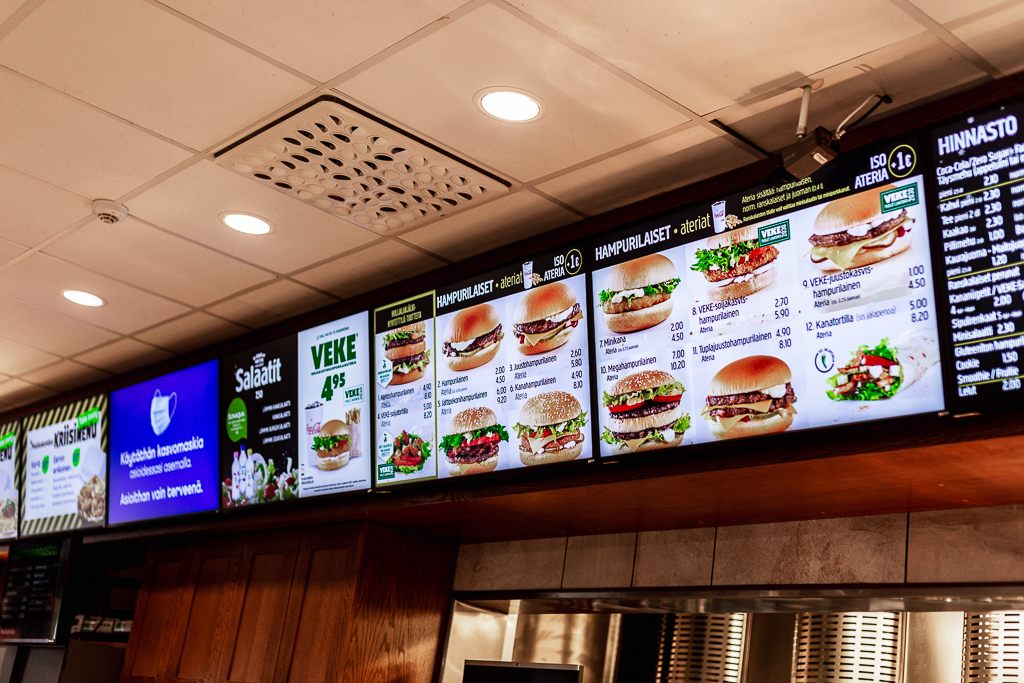 ZetaDisplay has worked with Vierumäki Matkakeidas since 2013, designing andimplementing its digital signage solutions and was chosen to implement the redesign.
ZetaDisplay designed a complete solution for Vierumäen Matkakeidas using Samsung display solutions to digitalise the entire traffic station. At the same time, ZetaDisplay led negotiations with Hesburger on the digitisation of their point of sale, which allowed the designed solution to be seamlessly integrated with Hesburger's responsible communication concept.
As a result of the redesign, all menus at the transport station were digitised. Now, the food offer is always on display and the content is dayparted for breakfast or lunch timings. 10 displays are located above the takeaway ordering point, six of which serve the transport station's own needs and the other four aremanaged by Hesburger's chain management.
An outdoor digital board was placed next to the station entrance to promote products and services to customers filling up their cars. This replaces posters previously used by Hesburger. Six small displays managed by Neste are also still available at the metering area.
In addition to these upgrades, small counter displays, mobile display stands and tactical displays advertising lunch and dessert were placed indoors. In total, there are 20 displays indoors and outdoors.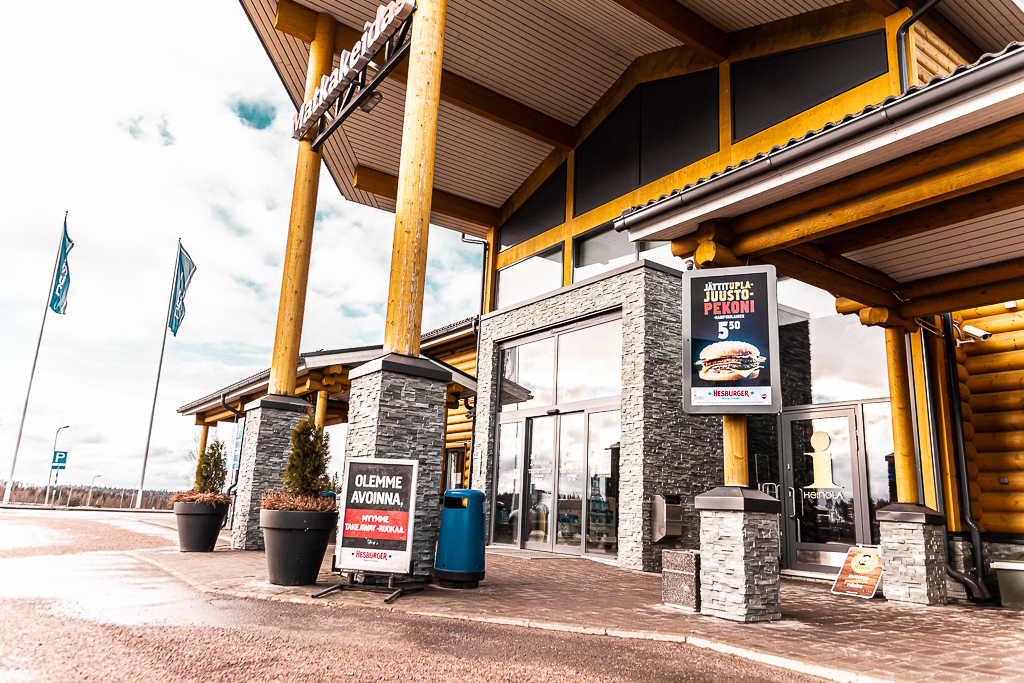 Benefits
With the renewal, the entire range of products and services offered by the transport station are constantly on display inside and outside. Strategically placed displays help to drive purchases and influence consumer behaviour much more effectively than traditional marketing channels and allow for better targeting of marketing efforts.
The move to a digital marketing approach also makes life easier for the Vierumäen Matkakeidas team, as the offer is always on display and no time is spent manually displaying print materials. All updates are done in-house using ZetaDisplay's easy-to-use content management software.
The digital signage solution designed by ZetaDisplay also works well with the concepts of the fast-food chains operating at the transport station. They are responsible for their own digital signage content, which is updated on the screens by the chain controller.