Introduction
Commerzbank is a leading German universal bank with 11 flagship branches across Germany. As one of the largest credit institutions in Germany it has a leading reputation for providing excellent customer service, expert financial guidance and relied upon for assisting corporate customers to move into international markets.
Commerzbank serves more than 18 million private and small business customers and over 60,000 corporate customers. Founded more than 150 years ago, the bank has a worldwide presence, so a cohesive digital signage network was crucial to continuing its success.
Challenges
The bank was looking to digitize its in-branch messaging to adapt in real-time to customer requirements with dynamic communications. The bank wanted to invest in its network to adapt the banking experience to meet its customer requirements in a changing financial landscape.
With 11 flagship branches to survey, it was imperative to understand the customer's pain points and devise a cohesive digital strategy solution. The group understood they needed to digitize their offering as much as possible to stay competitive within the financial landscape, but they also wanted to offer a holistic service concept, where if the customer wasn't local, they could still access all crucial services.
Solution
ZetaDisplay have worked with Commerzbank for over five years, helping them to adapt to changing customer requirements. Their branches focus on creating a feel-good atmosphere with coffee machines and discreet customer meeting areas.
ZetaDisplay designed and installed a range of display solutions at 11 flagship branches including 98" video walls, 43" customer guidance systems and tablets for customers to use themselves. With a holistic service concept, further digital modules are planned in the branches.
Our concept teams worked with Commerzbank from the initial site survey to full turnkey delivery including display specification and placement, logistics, installation and ongoing servicing and maintenance.
The complete Digital Signage ecosystem includes interactive displays that run a playlist of selected content. The large 98" Media walls stream business critical information, information on the latest services and newest products on offer as well as showing team photos at the branch which results in a personalized customer experience. 
Benefits
Commerzbank's Digital Signage transformation has reaped many benefits and increased operational efficiency. The Digital Signage ecosystem benefits both the team and customer with improved waiting times adding to an enhanced customer experience. Additional services and promotional items can easily be added to the content management system ensuring business critical messaging is always available.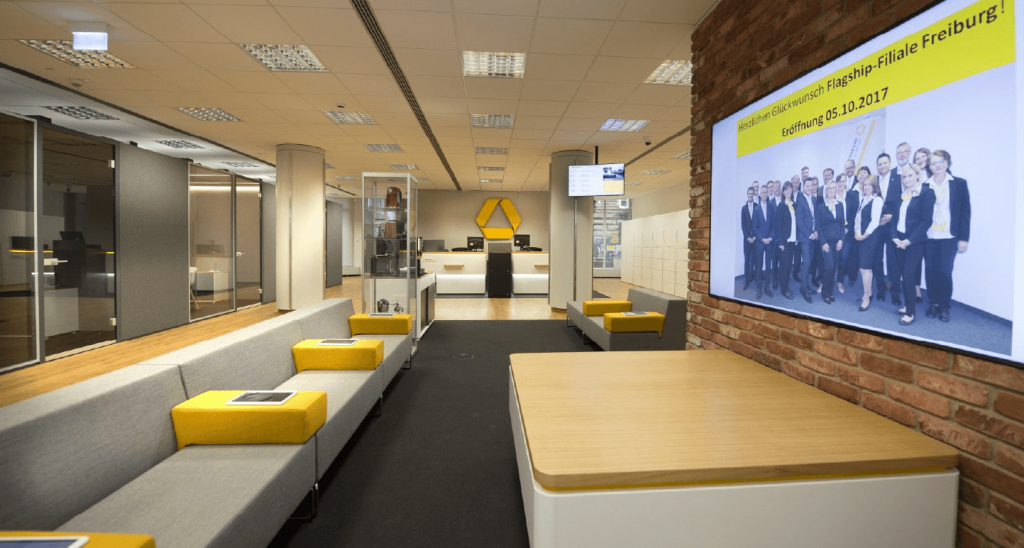 Do you want to know how Digital Signage can help you?
Contact us