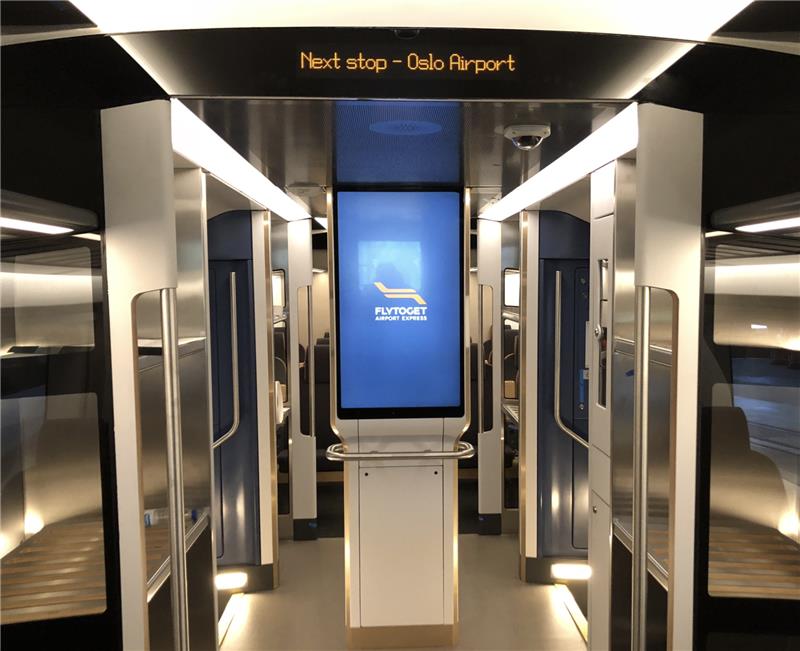 ZetaDisplay has won a prestigious competitive tender for Flytoget Airport Express, Norway's only high-speed train, to deliver turnkey Digital Signage and DOOH solutions and services. Over the next six years, ZetaDisplay will develop solutions that enhance the guest experience on-board and create new and engaging advertising platforms for brands.
Per Mandorf, CEO of ZetaDisplay explains:
"Following a highly competitive tender against strong adversaries, we are proud to be chosen as
Flytoget's long-term partner for the further development of their Digital Signage solution. We are really looking forward to eight exciting years together with Flytoget, one of the most innovative and forward-thinking players in Public Airport Railway Transport."
Flytoget Airport Express provides modern and comfortable transportation between Oslo Airport at Gardermoen and the greater Oslo area. Flytoget is renowned for being at the forefront of international innovation, service and development and in 2019 transported 6.7 million passengers.
The solution from ZetaDisplay will incorporate an array of Digital Signage solutions including hardware specification and installation, proprietary CMS software development and ongoing support.
The company has a strong track record of delivering quality solutions in the Public Information and Transport sector. ZetaDisplay is also working with Swedish state-owned railway company SJ, on the delivery of a 10-year agreement to provide on-board Digital Signage solutions for the railroad wagons that will operate across Nordic routes in Norway.