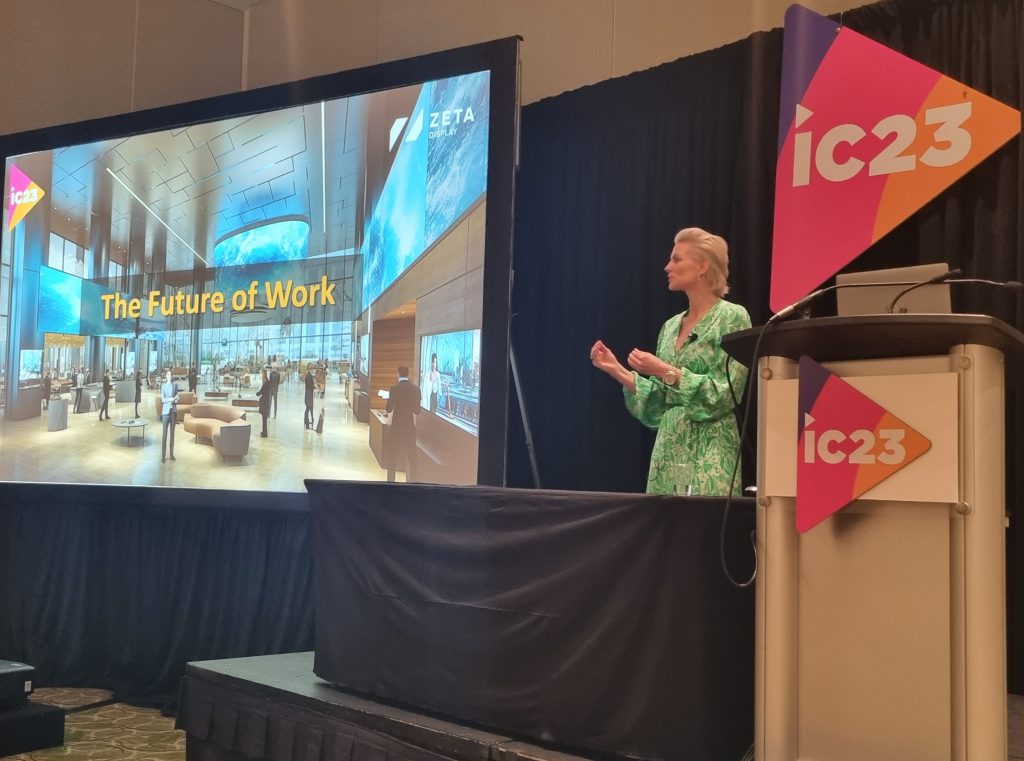 InfoComm 2023, the premier event for professionals in the audiovisual and integrated experience industries concluded with a bang in Orlando last week.
As part of the education programme, CCO Laila Hede Jensen took to the Digital Signage main stage to present an insightful talk on the future of work.
Within her presentation, Laila emphasized the importance of creating flexible and inclusive workspaces to adapt to the changing dynamics of the modern workforce. She discussed the rising popularity of hybrid work models, highlighting that 76% of companies have confirmed a hybrid shift in their work patterns.
The future of work
The purpose of the office has changed. More people are now able to perform their role remotely and our recent hybrid workplace survey tells us that more people want to work from the comfort of their own home.
The office has now become a destination people want to visit when they need to collaborate with colleagues in person and for the cultural and social benefits​​.
The 2023 Hybrid Work survey also informed us that the majority of employees now also expect businesses to create engaging work-environments.
Laila highlighted the need for organizations to invest in digital technologies that enable seamless communication and collaboration between remote and in-office employees to encourage employees back into the office.
Laila explained how Digital Signage technologies can help to:
Optimize formats of internal communication increasing productivity levels by 25%.
Bring employees together, strengthening relationships and boosting employee satisfaction by 50%​.
Streamlining meeting booking room processes
Keeping content relevant integrating local messaging, social media and internal company news to keep employees engaged and informed.
Download your FREE copy of our 'How to use Digital Signage for successful communications in the workplace' eBook which includes expert tips, real-world case studies, and practical strategies to maximize the impact of Digital Signage in your organization here.