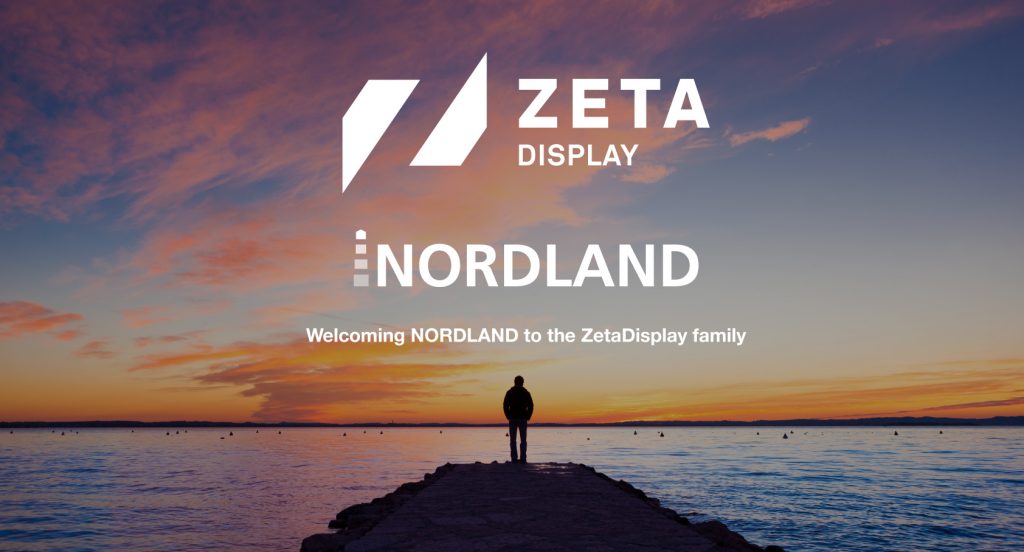 Leading European digital signage specialist ZetaDisplay has acquired German-based systems integrator NORDLAND systems GmbH. The two companies officially joined forces on 4th March, strengthening ZetaDisplay's position as a turnkey solutions provider for digital transformation and advancing its presence in the German market.
NORDLAND systems specialise in complex digital signage installations for a high-profile customer base including BP, Aral, Lekkerland, Fielmann and Netto, with a strong focus on service offering with strategic software partners. They work with clients from the initial planning and concept design phases through to installation, project management, global rollouts, maintenance and support. The 40 strong team will join ZetaDisplay's software specialists, content creators, strategists and engineers to continue to grow the business with a focus on SaaS revenues.
Per Mandorf, CEO of ZetaDisplay explains:
"We are excited about this union and to welcome the NORDLAND systems team and its customers into our growing company and portfolio. Germany is the single largest European market and we were looking for a leading player with a strong market position. NORDLAND systems have a strong standing paired with an attractive customer portfolio matching our capabilities to serve.
"The acquisition further proactively drives the consolidation of the European market for digital signage. We are the leading player in the Nordics and number two in Europe. The entry to the German market broadens our platform to fulfil our growth ambitions, both organically and through further acquisitions."
Thomas Käselau, Managing Director of NORDLAND systems comments:
"We made a strategic decision to secure our market position by teaming up with an international experienced full-service partner. We scanned the market and arrived at ZetaDisplay as an ideal partner combining a similar entrepreneurial culture and values as well as an appealing customer portfolio with attractive concepts and software offer. We have already today a day-to-day business relationship fulfilling installations for an international ZetaDisplay customer which has developed very well."
For questions, please contact: