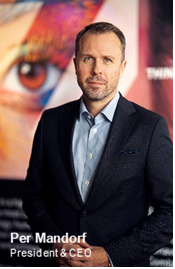 A message to our business partners
We are in the middle of a global pandemic. Our cities, shops, restaurants, hotels, airports and train stations are empty, and we all are trying to understand how these changes are affecting our operations both short- and long term.
This letter is aimed to provide you with an update on how we at ZetaDisplay have dealt with the challenges around us, and how we can support each other in these difficult times.
We continue to be open and work with committed teams at our nine offices in six countries to analyze and solve the current situation. Let me give you some brief answers to major questions that you might have with respect to our ability to deliver.
How do we work fighting the business effects of COVID-19?
Already Mid-January we realized that the Chinese outbreak would be a major challenge. Initially, we focused on securing hardware deliveries, three weeks later we issued group-wide travel restrictions before we formed a formal crisis team within group management. We are following different government recommendations and run our operations with a large component of home-office work.
What is our risk assessment for business interruptions?
We have identified several risk factors that we continuously analyze, measure and act upon. We are confident that we will be able to handle upcoming deliveries. Asian production has been ramping during the past weeks and we have got confirmation from key suppliers about a satisfying inventory status. Despite country-specific government recommendations leading to home-office work for many of our employees, we operate our business largely as planned. We are invested with the latest online collaboration platforms enabling us to work on our customers' assignments as normal. In summary, we are open and can deliver in line with your expectations.
How is our financial situation?
We issued during September 2019 a 3.5-year senior unsecured SEK denominated bond of 300 million in September 2019 which provides us with long-term financing. Additionally, we have launched an internal cost control program securing our capacity long term.
How do we look upon the coming weeks?
We work with digital transformation in physical environments. We strongly feel that we have a solid business model and that we have initiated appropriate measures given all uncertainties. We work as a committed team and are continuously monitoring new developments. We are grateful for your continued trust and together we will be able to come out stronger after this challenging time.
We are here for you, how can we support you?
Our operations are in full swing, we deliver on the promise and we are ready to support you if you have additional needs to communicate with your stakeholders during these difficult times.
We are here to serve you and if you want to discuss any urgent matter with us, please feel free to reach out to us. Chief Commercial Officer Laila Hede Jensen (laila.jensen@zetadisplay.com) or I (per.mandorf@zetadisplay.com) will be happy to be at your disposal whenever appropriate for you.
All the best for these challenging weeks,
Per Mandorf
President & CEO