Introduction
Dutch car dealership Kimman was looking to excite and engage its customers as soon as they walked through the showroom doors.
ZetaDisplay designed and delivered a Digital Signage solution using screens from the LG display portfolio to transform Kimman's customer experience journey.
Challenges
Kimman represents two high-end English car brands: Jaguar and Land Rover. It was important for the business to be able to communicate a higher level of quality to match its high-end product offering.
They wanted the ability to showcase up-to-date content from respective brands to potential buyers, and give customers the opportunity to configure their own car designs and view it in detail on displays.
ZetaDisplay designed a solution featuring displays from across the LG portfolio, including two flagship 86" screens; one for the Jaguar showroom and one for the Land Rover showroom. These two displays are stylishly incorporated into wall fixtures close to seating areas. This allows potential buyers to see up-to-date content and branded messaging.
A stunning 75" display has also been incorporated into an "inspire wall", which is designed to showcase latest products and branded video footage.
The Land Rover showroom now gives visitors the opportunity to configure their own car and see the options displayed in real-time on the immersive display. The configuration space is a vital element of the sales process as it's used to show customers the product and fine-tune available panel colours.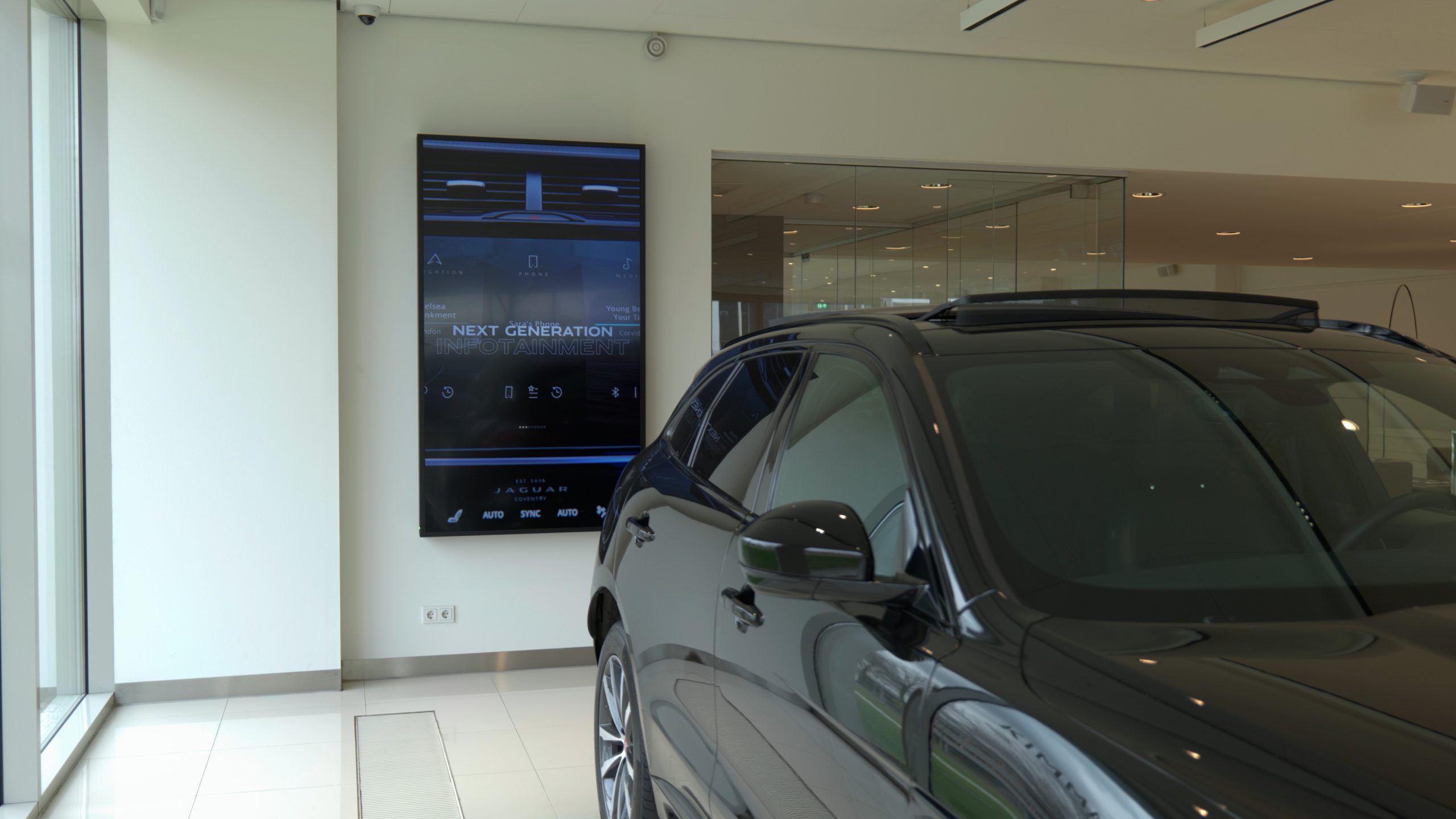 Benefits
Thanks to the displays which seamlessly match the exclusivity of the cars, Kimman customers can feel the sense of quality on offer as they explore the different areas of the showroom floor.
Visitors can now feel immersed with the latest content, from products to relevant updates, via crystal-clear displays placed throughout the store, and feel as though their experience is tailor-made through the interactive elements in the configuration room.
Frank Steinlein, Manager Kimman, Jaguar Land Rover:
"Our showroom now emanates the same quality as our cars. When customers visit the sales offices, they are now greeted by stunning screens that help present the products. This experience is then carried on throughout their experience, with interactive displays and the opportunity to configure a car to suit their individual preferences. We are very satisfied with the result, which is due to the fantastic cooperation between ZetaDisplay and LG as a hardware partner".