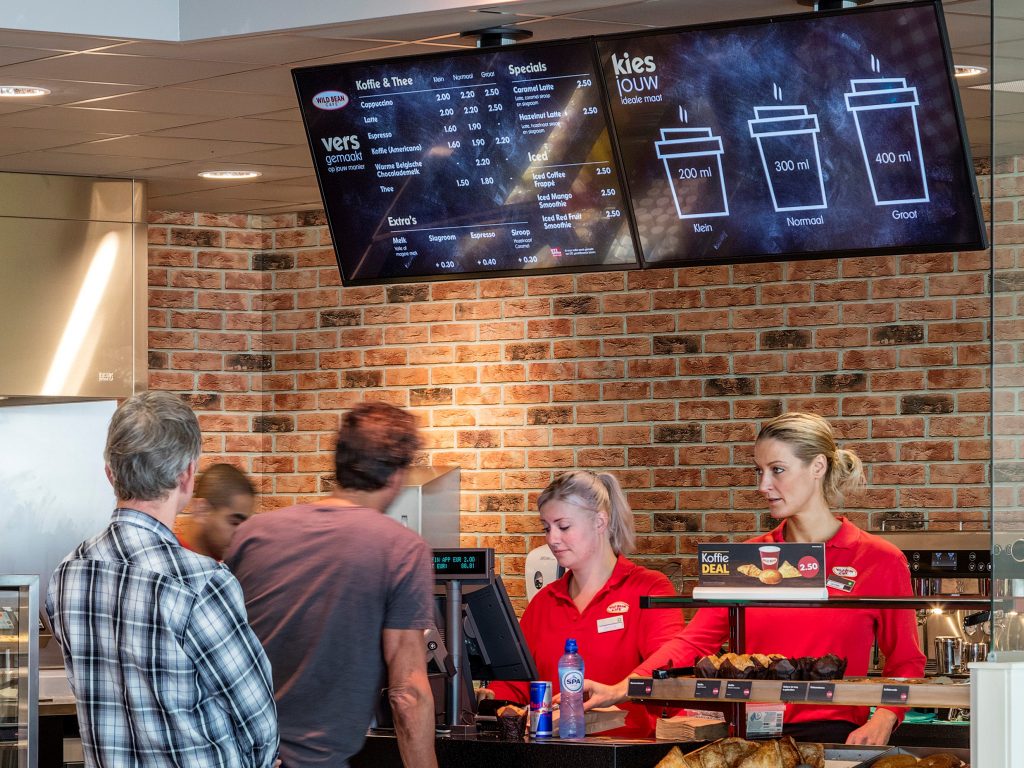 How do you use narrowcasting in the hospitality industry?
René de Jung, Sales Director at ZetaDisplay Netherlands explores the benefits of Digital Signage for the hospitality industry and shares his top three tips for how to use it smartly.
Digital Signage has already proved to be a crucial communications tool for many companies throughout the hospitality industry. Guests are lured in by attractive display screens and are seduced by digital menu boards. Those screens are part of a narrowcasting network.
The big advantage of such a network? Tailor-made information that has been proven to enhance the customer experience.
But Digital Signage in the hospitality industry is not only reserved for large, international chains. Even if you are a local catering entrepreneur with only one location, communication with narrowcasting is possible, affordable and useful.
APPLYING THE BENEFITS OF NARROWCASTING IN THE HOSPITALITY INDUSTRY
In the hospitality industry, everything revolves around an optimal customer experience and a high degree of hospitality. Whether you run a cafe, restaurant, hotel or cafeteria, Digital Signage helps you improve the guest experience.
For example, did you know that the waiting time experience can be positively influenced if you show interesting content on digital screens? This doesn't just have to be just entertainment: visually attractive menus also provide a good feeling.
In addition, you can stimulate the guest to make decisions faster and even make (more) impulse purchases. By displaying tempting offers and promotions in an aesthetically pleasing format that attracts attention, you will win over your guests more quickly.
Another advantage is the ease and efficiency with which you can operate and manage narrowcasting screens. You can manage each screen you have installed separately via a simple content management system, allowing you to show the exact information your guests need at the time of their visit.
For example, does your cafeteria have daily offers and promotions? Or do you rent out rooms in your hotel that require daily changing signage? You can prepare the new content with a few clicks. You no longer have to drag around pavement signs or work with handwritten information: digital displays always display relevant, up-to-date information and do so in a way that has proven to be extra attractive for the guest.
3 TIPS FOR SMART USE OF DIGITAL SIGNAGE IN THE CATERING INDUSTRY
TIP 1: SWITCH TO DIGITAL MENU SCREENS
Digital menu boards are a huge step forward compared to traditional menus when it comes to the complete experience in the hospitality industry. From fast food restaurants to local cafeterias and from hotel bars to theatre restaurants, digital menu boards can be used everywhere.
You can easily show the latest promotions and promotional products, display tasty product photos and easily adjust the information to different times of day. In a hotel restaurant, for example, you can promote orange juice and coffee in the morning and wines and the soup of the day in the evening.
With Digital Signage you can also steer the guest in making decisions, so draw attention to the products you want your guests to choose. For example, use moving images so that the guest has almost no choice but to look at the product highlighted. It is also an ideal way to combat food waste.
TIP 2: USE BRANDED CONTENT
Increase the brand experience and improve the atmosphere in your cafe or restaurant by using branded visuals throughout the space, such as images or videos that convey your brand identity. For example, you can point out offers, new packages or recent menu expansions to guests, but not all branded content needs to be informative. You can also improve the appearance of your catering business with branded photos of tasty products and idyllic scenarios.
TIP 3: ADJUST THE CONTENT BASED ON YOUR AUDIENCE AND TIME OF DAY
Narrowcast screens equate to dynamic content. That is ideal for catering businesses!
Analyse the audience that visits your business at different times of the day. What do they have in common and what information do they need? You can incorporate these insights into target group-oriented content that you display on the screens at the right time of the day. This makes it easy to increase hospitality and customer focus with Digital Signage.
Want to know more about what we can do for you? Contact us or request a free demo now!