Hoe configureer je een bekabelde of WiFi verbinding?
Configuratie bekabelde of WiFi verbinding op een Windows Web media player
In deze handleiding vind je een stappenplan voor het uitvoeren van de configuratie van een bekabelde of wifi verbinding op een externe Windows Web media player (HP Thin Client). Voor het volgen van de handleiding heb je een muis en toetsenbord met USB aansluiting nodig.
1. Sluit een muis en toetsenbord aan op de player (via USB).
2. Druk op de 'c' toets van het toetsenbord op de Player Configuratie te openen.
3. Indien je de muiscursor niet ziet, kun je deze zichtbaar maken door de volgende toetsencombinatie in te drukken: CTRL – SHIFT – ALT – M
4. Zet een vinkje bij 'Automatic settings' (DHCP) als je geen vast IP adres in wilt stellen.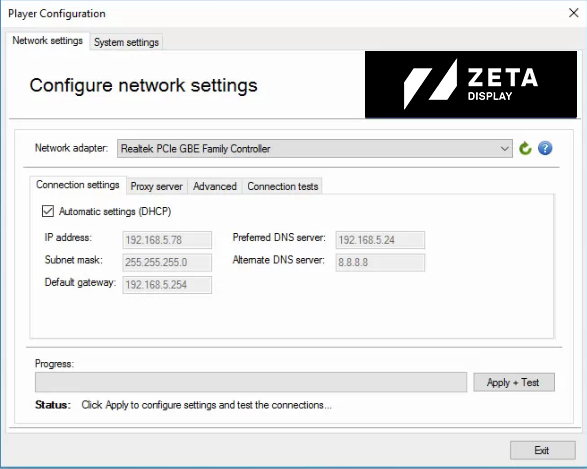 Wanneer je een bekabelde verbinding hebt, kun je verdergaan bij stap 10
5. (wifi) Selecteer via het dropdown menu Network adapter de juiste adapter met wifi
6. (wifi) Er verschijnt nu een extra tabblad met Wireless Settings.
7. (wifi) Open het tabblad Wireless Settings door erop te klikken.
8. (wifi) Selecteer jouw WiFi netwerk door op Select network te klikken.
9. (wifi) Voer bij Network key jullie wachtwoord in.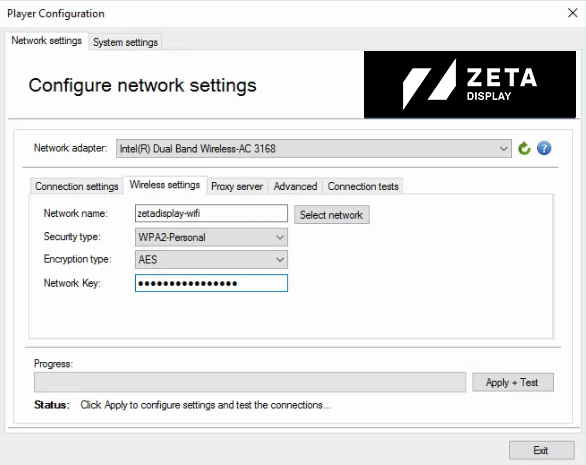 10. Klik op Apply + test om de connectie te testen.
11. Alle testen moet OK zijn.
12. Als 1 of meerdere falen, klik dan nog een keer op Apply + test
13. Als er weer 1 of meerdere falen, controleer dan of de juiste poorten naar buiten open staan
14. Klik op Exit op de player configuratie te sluiten