Configureren of wijzigen van een bekabelde (LAN) of draadloze ( Wi-Fi) verbinding op een LG webOS 3.2 monitor
In deze handleiding geven we je een stappenplan waarmee je zelf de ( draadloze ) netwerkinstellingen van je monitor kunt wijzigen. Wij raden je aan de LG afstandsbediening bij de hand te hebben.
Zet de monitor aan en wacht totdat deze volledig is opgestart.Turn on the LG monitor and wait until it has fully booted.
Druk op de afstandsbediening op de "Settings" knop (tandwieltje).
Gebruik de pijltoetsen en navigeer naar General.
Druk op de pijltoets —> rechts om in het submenu te komen. Ga naar Network en druk op OK.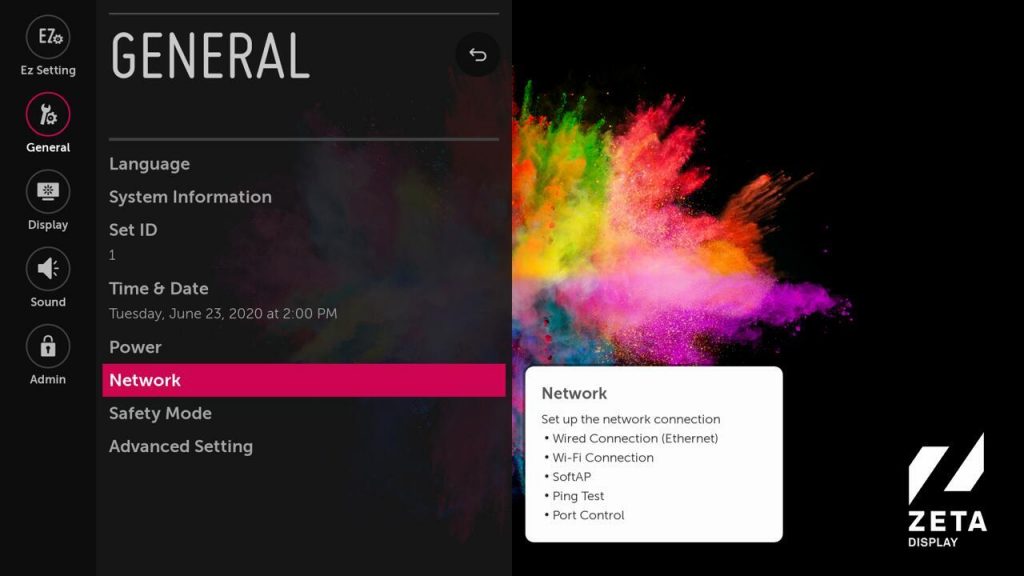 Kies bekabelde ethernet (LAN) of Wi-Fi (WLAN) Connection en druk OK.
Bij draadloze (Wi-Fi) verbinding, selecteer je beschikbare Wi-Fi netwerk in de lijst en druk OK.
Voer het wachtwoord in en kies Connect om te bevestigen.
Er zal nu een IP adres worden uitgegeven vanuit het (Wi-Fi )netwerk en een melding verschijnen dat er een internetverbinding beschikbaar is..
Zet je scherm uit. Wacht 10 seconden, zet je scherm weer aan en wacht tot de ZetaDisplay applicatie volledig is gestart.
Gefeliciteerd! Je hebt je LG monitor verbonden aan jullie draadloze netwerk. Jullie monitor kan nu de nieuwste uitzending en livedata ophalen.
Hoe kan ik de verbindingsstatus controleren?
Wanneer onze applicatie draait, kun je d.m.v. het indrukken van de blauwe knop op de afstandsbediening ons informatiescherm openen.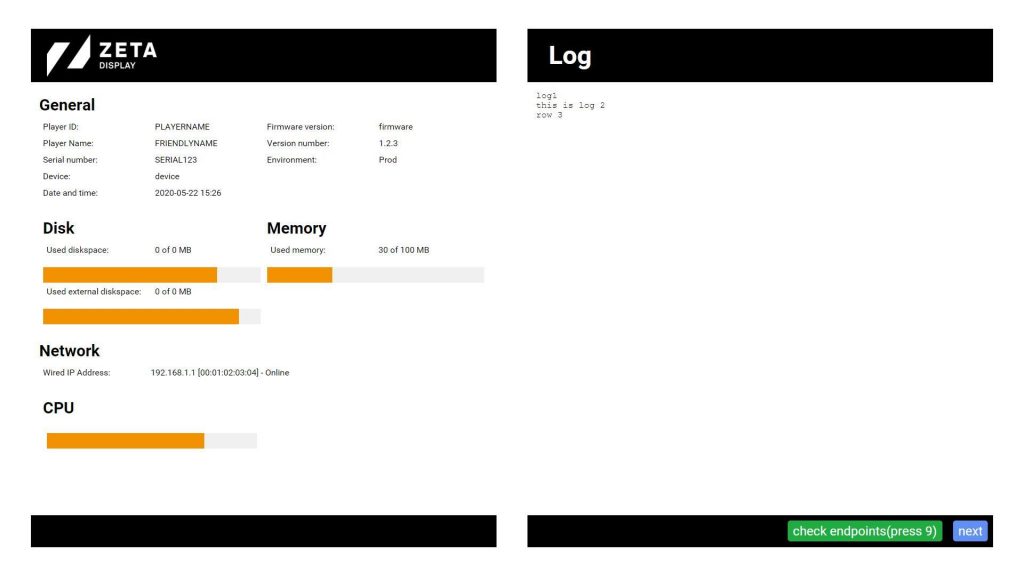 Bekijk de actuele status onder Network. Hier zou het volgende moeten staan:
Type van connectie: Wired (bekabeld) or Wireless (draadloos)
IP address and [MAC address]
Status (online of offline)