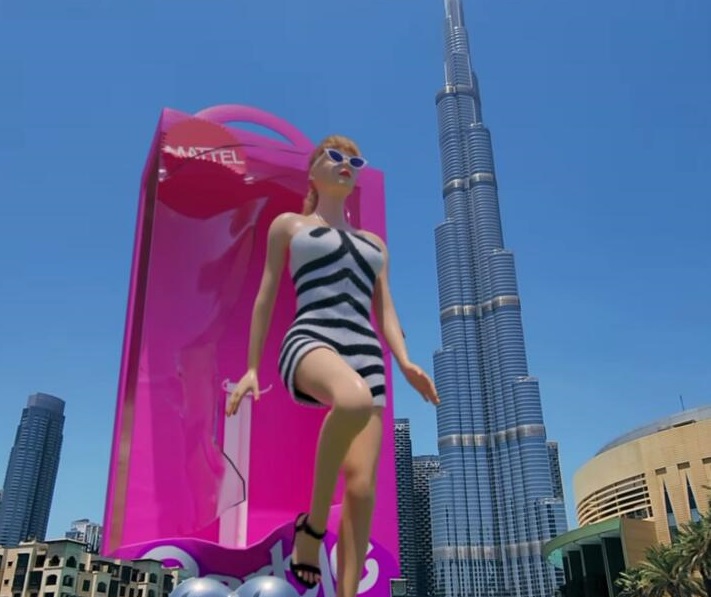 You've heard of DOOH (Digital out of Home) advertising, but have you heard about FOOH advertising?
In an age where digital landscapes have blurred the lines between reality and fiction, a new phenomenon has emerged in the realm of advertising, Fake Out-of-Home (FOOH) advertising. This is where the scenes being presented to us on social media as experiences that took place in the real world never actually happened. .
This controversial approach has raised eyebrows, creating a ripple in the traditional world of outdoor advertising. As technology evolves, it leaves us to ponder the implications of FOOH advertising on both consumers and the advertising industry as a whole.
In this article, we explore the power of FOOH advertising experiences and, although we can appreciate this new innovation, there's a desire to ensure it doesn't diminish the genuine impact of traditional Out-Of-Home experiences.
The Illusion of FOOH
FOOH advertising leverages cutting-edge technologies, particularly computer-generated imagery (CGI), to craft visually captivating and seemingly authentic outdoor advertisements. These ads blend seamlessly with real-world environments, tricking the eye and captivating the imagination.
From mesmerizing cityscapes that never existed to awe-inspiring stunts that were never performed, FOOH advertisements are designed to trigger emotional responses from its audience and capture the attention of social media users.
You may have seen the Maybelline Mascara ad that's been doing its rounds on social media recently. This is a perfect example of the huge viral impact OOH can have when done right. The concept has Transport for London (TFL) tube lines adorned with gigantic eyelashes getting a smattering of Maybelline Mascara as they pass by. It's an innovative idea, but the catch is that the whole thing was faked, and it was all of course a CGI video.
Despite this, the media were quick to pick up on the PR stunt, with numerous articles fully embracing its fakery. There is no doubt this will propel the Maybelline brand forward, resulting in a victory for all parties involved, except for TFL. It seems that TFL hasn't reaped any financial benefits from the virtual use of their vehicles during this stunt at all.
Since its public inception, we've seen others following suit in the CGI realm, with a giant virtual model of Barbie standing in an enormous box next to Dubai's iconic landmark, the Burj Khalifa and Domino's delivering pizzas via jetpack across the UK.
FOOH advertising has two pulls – its ability to deliver stunning visuals and the intrigue of its origin. As audiences encounter these seemingly real-world marvels, they are inevitably drawn to like, share and comment on the content, generating social media engagement that advertisers crave. However, this enchantment comes with a twist, the audience might be left wondering whether what they witnessed was genuine or just an intricate illusion.
Authenticity Vs Innovation
While FOOH showcases the incredible capabilities of CGI and digital storytelling, it also raises questions about the authenticity of the brand experience itself. As advertisers push the boundaries of what is possible, there is concern that these awe-inspiring moments might dilute the credible real-life OOH experiences we've come to appreciate. Authenticity becomes a pivotal factor in establishing trust between a brand and its audience.
Navigating the Complexities
FOOH showcases just how far technology has come over the years. On one hand it injects a sense of wonder and excitement in the advertising landscape, demonstrating its limitless potential. On the other hand, it makes us consider the pitfalls of misleading consumers which could lead to negative outcomes. Advertisers must strike a balance between innovation and transparency with consumers to mitigate any shortfalls down the line.
Reshaping Advertising as we Know it
FOOH advertising is reshaping how we perceive and engage with advertising, urging us to redefine our parameters of what is real and what is not. It serves as a reminder that the advertising landscape is evolving at an unprecedented rate, driven by technological breakthroughs and the appetite of audiences for fresh, captivating content.
The Future of FOOH?
It seems that this is just the beginning of FOOH. We have distinguished that to remain authentic and innovative, advertisers must be transparent with their consumers, and find ways to use this concept responsibly, without compromising the trust they've managed to cultivate with their consumers.
As technology continues to advance, the narrative of FOOH advertising will undoubtedly evolve. It's clear the world of advertising is navigating uncharted waters, and the journey promises to deliver both thought-provoking and thrilling experiences for all!
Watch this space!