Introduction
ZetaDisplay delivered a dynamic content solution to ensure an impactful arrival at DNB's new state-of-the-art North America regional headquarters located at the prestigious 30 Hudson Yards, New York, also home to Facebook and Warner Media.
Digital Signage displays feature prominently throughout the lobby with an interactive, engaging and informative content solution to personalise the guest experience in DNB's lobby.
Challenges
DNB is defining a new genre of banking experience and is viewing itself as a 'tech-company with a banking license'. This is reflected in the design and layout of its new office, which has evolved from the traditional bank experience into dynamic and end-user oriented settings, leveraging progressive technology-driven solutions.
The company was looking to enhance its workplace communication by improving focus and timeliness of messaging, while increasing staff engagement through interactive features and touch sensitive displays.
The brand also wanted to ensure that its focus on sustainable development with emphasis on environmental, ethical and social considerations filtered through, as well as its Norwegian roots and cultural heritage. DNB is in many regards considered an ambassador for Norway, a consideration influencing its digital communications.
Staying conscious of the high profile of Hudson Yards, the vision was to create a memorable arrival experience, engaging and cinematic in quality yet functional and interactive, with an easy-to-use CMS solution for the DNB team to refresh content.
ZetaDisplay overcame challenges of strict data security protocols to deliver this content solution.
Guests and staff are greeted by a flagship 3.5 x 2 meter interactive LED display and register their arrival on an adjacent 0.75 x 1.2 meter touchscreen.
They can take control of the big screen with options to transform their surroundings with "SlowTV" content from Norway Live, including real-time views of iconic Nordic sights such as the Northern Lights. This showcases DNB's Norwegian heritage and its Powered By Nature brand messaging.
The content selection also includes live news feeds from 18 sources, in addition to weather, local traffic and stock market data. This is displayed through a world map with zoom functionality that lets guests browse local and global information.
The office is LEED Gold and WELL-certified to advance staff's health and well-being and a Wellness-feed displays air quality data throughout the office. The immersive LED display is also fit for events such as townhalls and all-hands meetings, client and cocktail events.
A gamification module allows for control of the LED display with integration of AirConsole. The solution facilitates user phones to act as the controller, whilst live-gaming on the screen.
The touch screen display also integrates with DNB's desk booking system, a mobile and desktop application, allowing for employee check-in when they arrive.
For content management, ZetaDisplay created a bespoke CMS interface using its proprietary Engage+ software specifically for DNB's unique solution. This includes the integrations for gamification, real-time news, SlowTV feeds and desk booking for employees. Content sharing company news can easily be updated using pre-designed templates.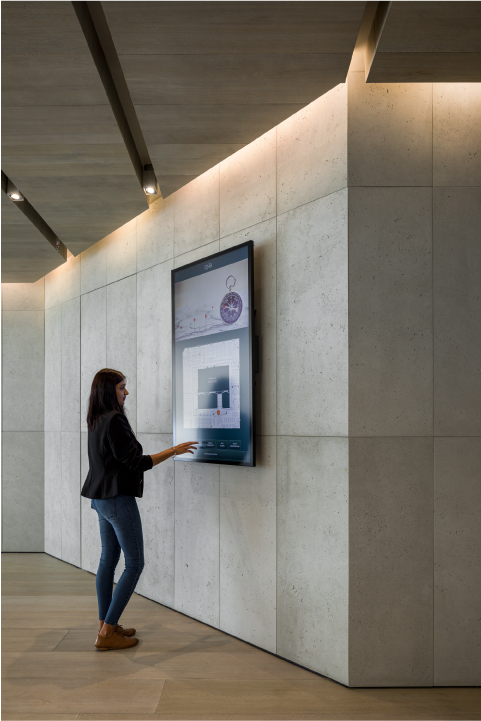 Benefits
Guest and visitors of DNB at Hudson Yards claim this is one of the most technologically advanced offices in Manhattan, which is high praise in a city renowned for being one of the most competitive and progressive places in the world.
The Digital Signage seamlessly blends business messaging with brand and cultural content. It presents a dynamic background that audibly and visually showcases DNB, its industry and business focus, overall strategies and brand values.
The spectacular lobby solution helps create a consistent and engaging visual experiences for DNB. It creates and enhances the atmosphere and balances beautifully the contrast between New York City and the company's Scandinavian roots.
The experience converts waiting time to value time by providing up-to-date information through a combination of edited and auto-generated content. The installation creates a long lasting and future proofed communication solution.