Introduction
Retail franchisee and operator Ingka has been experiencing a shift in its working patterns at its USA HQ in Philadelphia, moving from a space where workers were based on a daily basis pre-Covid to a hybrid workplace model, with people splitting their time between the office and at home.
They turned to ZetaDisplay to help them define what was a priority within the office space and realised that it isn't just about factual information sharing, but more about engagement and the next generation of company culture.
Challenges
Ingka recognized that the purpose of the office has changed. With people now able to perform their role at home, the office has become a destination that people visit when they need to collaborate with colleagues in person and for cultural and social benefits.
In response to this change in people's working patterns, Ingka wanted to deliver a renewed experience that would capture people's attention from the moment they entered the office.
This also needed to provide the core functionalities of sharing valuable information relating to meeting room availability, creating a space for social engagement, and delivering inspirational messages to nurture creativity.
To deliver all of this, Ingka needed a Content Management Solution (CMS) that they could easily access to update the information when required, and dynamic feeds that automatically update so that the messaging is always fresh and relevant.
They also needed bespoke integrations with social media channels, meeting room booking software and a gamification platform to enable competitive gaming on the big screen.
Solution
ZetaDisplay transformed the arrival experience at the Ingka HQ in Philadelphia with the design and delivery of an immersive, dynamic and engaging Digital Signage solution.
Upon arrival, staff and guests are greeted by the flagship LED display Experience Wall. This is six meters (19.6 feet) wide by three meters (9.8 feet) high, generating 18m² of space for content, making it truly immersive and attention-grabbing from the moment they walk through the door.
The messages from the LED Experience Wall are also repeated on the second and third floors of the building across eight 65" Samsung displays, mounted in portrait. This creates continuity throughout the building and ensures that mission-critical messaging is always instantly available.
Benefits
This project was a truly global collaboration, with the design, architecture and development coming from Sweden, the content development and execution from Norway, the physical LED display from Denmark, and the installation being completed in the US.
Amy Singer, Business Development: Innovation & Co-Creation for Ingka commented:
"We knew that we were transitioning into a hybrid workplace but at the beginning of this project, we didn't know in full what type of content we were looking for. It was great to be able to work alongside the ZetaDisplay team who helped us define this and realize that it isn't just about factual information sharing, but more about engagement and the next generation of our company culture.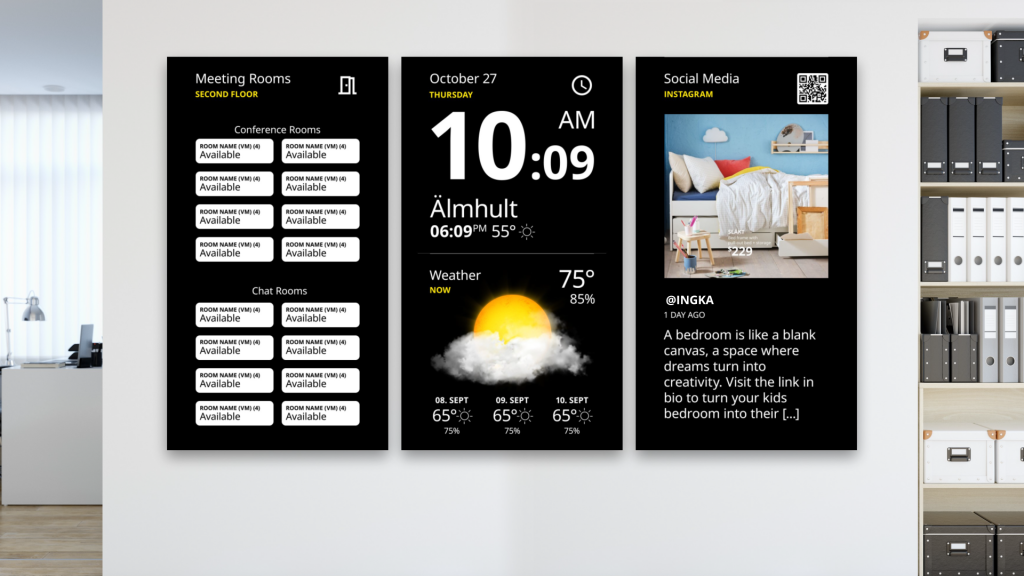 "The solution that we now have has proved to be the perfect mix and our team absolutely loves it. When we reopened the office and unveiled the Experience Wall for the first time, people were coming in and stopping in awe to watch the content!
"One benefit that we have seen is that it has brought an increased awareness to the business. The integrations with our social media channels are a functional yet fun way of sharing information more widely with the team. Those who don't work in marketing or customer-facing roles don't always see the positive engagement and feedback from our customers or the latest advertising materials that have been put together, so for them to be able to experience them in this immersive format has broadened their company knowledge.
"Our foyer has become a multipurpose space where we can now host team meetings and conferences. The games module has become a crucial part of that meeting agenda and lets people interact in a way that you can't do at home over a video call, which is exactly the purpose of our new hybrid work destination."
DO YOU WANT TO KNOW HOW DIGITAL SIGNAGE CAN HELP YOU?
CONTACT US